Of all the online casinos that Slots Play Casinos has reviewed, it seems that Slotocash Casino is the one that best understands that the fundamental purpose of online casino gaming is to have fun! In this re-review of Slotocash we will focus on all of the ways the casino encourages gamers to simply have fun!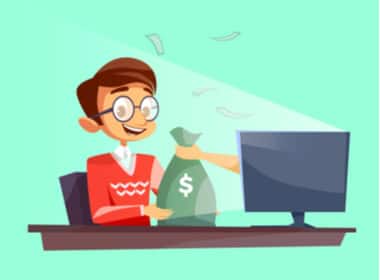 The Welcome Package Goes to Mars
Well, not really.
But a Welcome Package this big has to be in orbit somewhere way up high! They offer up to $7777 and 300 free spins in the Welcome Package. The bonus money comes in five deposit bonuses. The first two are for a 200% bonus, the next two are for 100% bonuses, and the last one is for a 177% bonus.
We have to criticize where criticism is warranted and here is one time when that is the case. The fine print—which is right there on the page but is way too fine for gamers over, say, 45—says that each bonus is a factor of a $1000 deposit. So, the 200% bonuses are for up to $2000, the 100% bonuses are for up to $1000, and the 177% bonus is for up to $1777.
Why didn't they put that very important information in the chart? As Donald Trump might say: "mystery".
How is a Big Welcome Package Connected to Fun?
This one is easy!  When you play online casino games with the casino's own money, you are essentially playing for free. Also, right there in the small print, the casino says that there is no maximum withdrawal for wins with the bonus money!
Anyone who plays with $7777 of a casino's money with no maximum on winnings is sure to have fun gaming!
Slotocash Casino Talks to Gamers
Every good online casino talks to gamers in some way. First, they may have content on the home page. This content is often published in a very small font and with a difficult letter to background contrast. Even Slotocash is guilty of this faux pas!
We suggest that you skip all the writing on the Slotocash home page and go to the pages where the casino really cares about what they write and publish!
Sloto Lifestyle
This is the area where Slotocash talks to gamers about all manner of things unrelated to casino gaming that might help the gamers enjoy life more! On the bottom of the home page, it actually says Sloto Life but that is just to conserve space!
Each page has about three articles and there are at this time 12 pages. So we can safely say that Sloto Lifestyle is a work in progress! The biggest takeaway from the Sloto Lifestyle section is that Slotocash Casino really cares.
Here are a few of our favorite entries in the Sloto Lifestyle section:
Sloto World has links to Sloto Life, the casino itself, Sloto Shop, Sloto Magazine, and Mr. Sloto.
Sloto Magazine
This is a magazine in every sense of the word! It comes out at the start of each season so at this time they are working on the summer 2021 issue. Surely they will have an article about the big drop in coronavirus cases at least in some countries and some states within the United States.
We also hope that they include an article on the benefits of taking a real vacation once everything reopens since many online gamers will naturally be drawn to all those land-based casinos that were closed for so many months!
The Spring 2021 issue of Sloto Magazine had 32 pages! This is not a flyer that comes in the mail! It is a real communication that shows how important the casino's gamers are to the casino!
Articles
Slotocash has 44 pages of articles which amounts to about 125 articles all told. These are not lifestyle articles, per se, like the ones in Sloto Lifestyle. Instead, they are very informative articles about all manner of topics. Page 44 has an article on the future of 3-D printing. Page 43 features an article on New Year's celebrations around the world. On page 2, you can find an article on perplexing historical mysteries. On page 5, they published an article about IQ tests.
Videos
At this writing, Slotocash Casino has 43 short videos. The fact that the casino went to the trouble and expense of putting together so many videos (and counting) is still another sign that Slotocash sees itself as far more than an online casino, one among thousands.
An Entertainment Center
Slotocash Casino sees itself as an entertainment and information center. All of these videos and articles are on one side of the entertainment center. The other side, of course, is the games and many promotions. We salute Slotocash for its many promotions.
Slots Play Casinos Covers the Online Casino Market
We are always happy to have good things to say about an online casino. We also never hesitate to offer advice or even to criticize when that is appropriate. We invite all online gamers to come to Slots Play Casinos often as we publish new articles every week.