Slots Play Casinos reviewed Ripper Casino in 2021 just after the casino made cyberfall on the internet. We don't have to go over the points we already covered in our review but we would like to take you away for just a short time from using those great Ripper Casino bonus codes to look at the way Ripper Casino views the gaming public.
This will seem like a joy ride because this casino really does cater to its public! Let's take a deeper look.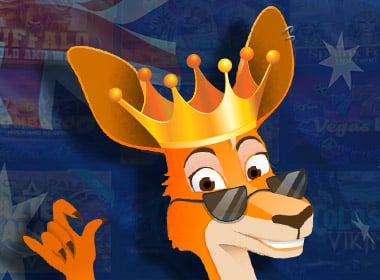 Scroll Down
When you go to Ripper Casino on the internet, you get to what is known as the landing page. To get to the actual casino, a gamer needs to register and use their login. The landing page gives gamers who are looking for an online casino to call their own a look at what the casino has to offer.
On the landing page are links to promotions, the details about the $7500 Welcome Package, banking methods, and then a lot about the games.
We mentioned in our review that Ripper Casino uses games from three game providers: Rival, Arrow's Edge, and Booming Games. By featuring games from three providers Ripper gives gamers more options than most online casinos that feature games from one provider.
The upshot of having such a large and exciting variety of games is that most gamers don't scroll down to the bottom of the landing page which is where we would like you all to go!
About Us
Let's look at that section first. Ripper Casino has a definite Australian angle as you can see by their use of these Aussie terms in three short paragraphs:
Gday
Fair dinkum
Choc a bloc
Ay
Ripper (of course)
If a casino were writing to a pirate gamer base they might say "shiver me timbers"! If they were writing for a Wild West (American) audience they might say: "come along little doggies"! If the main gaming cohort were Canadians they would sprinkle in a generous number of "ehs"!
Not to leave the British out, an "about us" section for the British would feature "Bob's my uncle" and other Britishisms. So, Ripper Casino has a large dollop of Aussie about it and a wonderful sense of humor (or is it humour?).
Tiny Kangaroo Down Sport
This is the name of a popular Aussie song from way back even before many of you were even just a twinkle in your parents' eyes! The graphic at the bottom of the landing page is of a kangaroo (or just plain roo to the fully initiated) surfboarding in the giant waves off the coast of Australia.
Just to add to the low key humor, the roo is smiling and wearing sunglasses!
Privacy
Allow us to quote from the heading of this section: "Ripper Casino is committed to respecting your privacy." A lot of casinos make that claim. Ripper Casino goes a step further and they tell you what kind of information they gather, why they collect that information, and what they do with the information, which boils down to communicating with gamers.
Even here, when discussing a very serious matter, Ripper Casino cannot keep themselves from injecting some Aussie humor! See if you can fathom the following sentence: "Rest assured, we'd no sooner share this info with a third party company or organization than ask for a middle in Melbourne or a butcher in Brisbane."
Writing in a clear and simple way, even when communicating very serious rules and practices, is a hallmark of a business that is foursquare in support of its client and customer base!
Terms and Conditions
The great test of an online casino, or of any business that desires to do business on the internet, is how clearly they convey the Terms and Conditions (T&Cs). After all, the T&Cs are legal terms. They could be written in unfathomable legalese.
The T&Cs at Ripper Casino are in a very long section but it is accessible to every gamer so it is really in your interest to read through the T&Cs once. We are sure that you will understand everything pertinent to your gaming so you won't have to plow through them a second or third time!
Responsible Gaming
This is another area where some casinos pay lip service but don't really mean it. The online casinos we have reviewed all take their responsibility as gambling establishments seriously. Ripper Casino goes one step further and explains in detail what problem gambling is and how gamers and the casino can deal with a gambling problem together.
The key to happy online gaming is to make it all about gaming with the gambling side of it a side feature! We can do this much more easily at an online casino such as Ripper Casino since we have not traveled to the casino at some expense, large or larger, so most online casino gamers set a time limit for gaming, have fun gaming, put a little money on the outcomes, and close the session when time runs out and get on with the rest of their day.
Some gamers put gambling at the forefront. These gamblers have a very hard time ending a session even at an online casino. They bet too much money, sometimes more money than they can legitimately afford to lose.
Ironically, a problem gambler almost never plays a game of skill with the best strategy. They play by hunch, they follow betting systems that don't work, they throw good money after bad, they swear that they will stop when they are even with the house which almost never happens based on how they bet!
All of these are symptoms of a player with a gambling problem. Ripper Casino is determined to help players who exhibit any of the symptoms we mentioned above.
Simple Language for a Serious Problem
Here is how Ripper Casino begins a very long discussion about responsible gaming: "At Ripper Casino, we support and promote responsible gaming. We want you to enjoy your time with us with the understanding that gambling is an adults-only leisure activity."
The casino continues in the next section: "Responsible gaming is all about having fun without harming yourself or those who rely on you for their emotional or financial well-being."
We could go on about Ripper Casino's commitment to responsible gaming but we are sure that you get the idea.
Slots Play Casinos is Proud to be Able to Recommend Ripper Casino
This casino came into the highly-competitive online casino market only last year and they have made a major impression on everyone who has checked them out!
We are happy that we have only good things to say about Ripper Casino!
Come to SLOTS PLAY CASINOS often for more information about online (and some land-based) casino gaming!