We at Slots Play Casinos encourage our readers to play online casino games rather than travel to a land based casino to play. We have written articles about the advantages of online slots casino gaming as compared to gambling at a land based casino.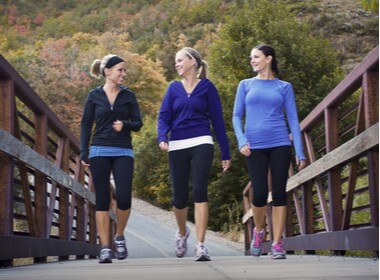 You Put Your Right Foot Out and then Your Left Foot… Also Out!
In this article, we will talk about the simple act of taking a walk as a break from gaming. Of course, you can take a walk for any reason at all! We encourage our readers to take regular breaks from gaming. One of the things we are very adamant about is the physical need to get up and stretch. You can do some stretching exercises and they are fine.
On the other hand, you can also take a walk. That is the gist of this article: How to take a walk as a break from gaming.
Walking Just to Walk
There are two different ways to walk. You can walk for exercise and you can walk just to walk. You can also hike but we are not talking about hiking here. An English teacher once taught her students that hiking means "walking in Nature". By thus she meant walking in the forest, up or down a mountain, around a lake, and so on.
There are Shoes and There are SHOES
When you go hiking, you need very good shoes for the rigors of the hike. You should never hike or casually walk in sandals or any shoe that doesn't give the support your ankles, instep, heels, and calves require. You need shoes that will protect every part of your feet.
And this is just to take a little walk!
When you go for a walk as a break from gaming, you probably aren't going to be hiking. So, you don't need hiking shoes. However, you do need to think about what you will wear on your feet as you walk. We think that it's a bad idea to take a walk in sandals, clogs, plastic shoes with holes in them, or any show into which a pebble can easily get. Even a small pebble is a big ouch when you step down hard on it!
Homo Sapiens: The Upright Animal
So many animals walk on four legs. Even our cousins the monkeys walk with their arms close to the ground. Personkind are the only animals that walk truly upright. This isn't easy to do! As a result of becoming the upright animal, we are also the animal with the most lower back pain.
An elephant may be a clumsy animal; a rhinoceros might be a tad cumbersome; a hippopotamus might be a little hippy; but none of them have any idea what lower back pain is all about!
Walking is a great way to get back upright after an hour or so of lounging on your super comfortable sofa playing slots, blackjack, and all the other excellent online casino games at the casinos we recommend so highly.
What Should You Do while You Walk
Whistling is okay as long as it doesn't make the neighborhood dogs howl! Here is where walking becomes like online casino gaming. Just as an online casino has a few hundred games and you can access every one of them from the comfort of your sofa, so is the walk you will take as varied as a slot based in ancient Egypt from a round of blackjack is different from the immortal essence of Banana Jones.
Vary Your Walks
If you live in a city, walk east one day and south the next. Follow that up with a little northward bound and finish the half week with some going west young man! And since you have all the freedom to choose, you can walk in any direction you want to walk in!
We strongly suggest mixing and matching your walking routes just as we suggest mixing and matching the games you play.
Look Around
One day you can look to the sky. If rain is in the forecast, you might see the clouds developing. If a storm is brewing, even a half hour walk will reward the cloud gazer in you! Another time, immerse yourself in the architecture of the buildings you pass. Is it the boring architecture of a factory or schoolhouse or is it the interesting architecture of homes that were built to the buyers' specifications?
We have enjoyed walks in which we looked at people's front doors. Some front doors are very plain while others are quite the work of art!
We like to look at walls and fences. There are a few communities in which there are few walls or fences but most communities use walls and fences to maintain both privacy and some extra security. If you take a walk to stretch out and you look at walls and fences you will see many different kinds.
Some walls are made of tile, some are made of stone, some are simple and some are ornate. A fence can be simple steel or it can be wrought iron! It can be made of wood. If it is made of wood, the wood might be in the form of thin slats or thick logs.
Walls and fences reveal a lot about the people who live behind them or who once lived behind them.
Gardens and Trees
We also like to look at gardens and trees. Walking in front of houses, we usually don't see the garden although we might come across a flower bed. Flowers are the casual walkers best friends because not only are flowers beautiful but many different types of flowers are extremely fragrant.
Fruit blossoms, if you are lucky enough to live in an area where people grow fruit, are a seasonal fragrant delicacy.
Trees are also far from one size fits all plants! Some trees have been around for decades or longer. Some are young. Some protect you from rain should a drizzle begin while you are out. We especially like looking at the thick branches of older trees. These branches may be very close to the ground or high above the ground. Variety is the spice of tree watching!
What about the Birds?
Actually, we think that for the most part, we don't usually see many birds on our walking breaks. The very substantial exception is when the bird are migrating. Then we see a lot of birds! We see huge swarms of birds perform acrobatic maneuvers in the sky that would make any corps of flying Air Force pilots proud beyond belief!
Walking in the Fields
We have spoken about city walking a bit too long. Suffice it so say that if you live in a small, town and can walk outside of the town, that route will reward you immensely as well. There is nothing quite like watching the corn grow week by week!
If you don't live in the Corn Belt, you might see other grains in the process of becoming food. You might see and smell cows or chickens. Enjoying the sights, sounds, and smells of country walking is a great way to get the short break you need!
Walking is More Interesting than Swimming
When you swim, you go back and forth and then forth and back. The only activity that rivals walking is bicycle riding. We recommend that too! And we recommend… online gaming as well!