An article that The Press of Atlantic City website recently published details several interesting facts about sports betting and land based casino gambling in New Jersey. The article specifically spoke about the success of the two non-casinos locations where sports betting is allowed along with the six Atlantic City casinos where the state also allows sports betting.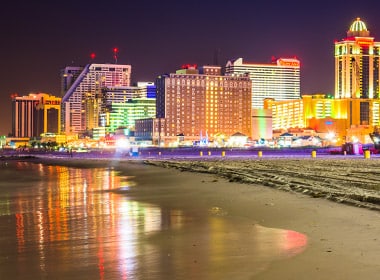 The article conspicuously avoided the idea of online casino gaming under the authority of the state. That is clearly a separate issue although many sports betting enthusiasts might not be aware of the benefits of online casino gambling. The benefits include convenience, casino bonuses, and more. The matter of convenience features prominently in the sports betting news in the article.
Location, Location, Location
At the present time, people who want to place a sports bet in New Jersey have eight choices. There are six casinos in Atlantic City where they can place sports bets and two race tracks in Northern New Jersey: Monmouth Race Track and Meadowlands Race Track.
The first big news item is that the two race tracks in Northern New Jersey generate more sports bets than the six casinos in Atlantic City combined.
Simply put, the race tracks are a lot more convenient for sports bettors from the New York City area than the casinos in Atlantic City. Somewhat lost in the discussion about the convenience of sports betting in Northern New Jersey in contrast to betting in Atlantic City is the idea that online sports betting would be far more convenient. Sports bettors could place bets from their desktop, laptop, or mobile device.
Land Based Casinos
The success of sports betting at the two race tracks may soon raise once again the question of whether New Jersey is willing to expand land based casino gambling in the state to locations outside of Atlantic City. The success in Northern New Jersey brought interest from researchers from as far away as Las Vegas.
David Schwartz, Director of the Center for Gaming Research at the University of Nevada in Las Vegas pointed out that if sports bettors could also play casino games at the race tracks they might play there rather than travelling to Atlantic City. He said, "More than half the money is coming in from North Jersey, just two locations. That, to me, says you have a lot more people who have proximity to that area, so if they have slot machines and table games, probably a lot of people would play there instead of down in Atlantic City."
Atlantic City is quite close to New York City but the two race tracks are even closer. The results have Atlantic City casino interests considering how they will try to influence the state legislature to continue the law as it stands today, in which full scale land based casinos are permitted only in Atlantic City.
Different Ways to Read the Statistics
One opinion has it that sports betting should have always been restricted to Atlantic City as the city needed an influx of new gamblers.
A second opinion has it that Atlantic City is still in an upswing with billions of dollars in investments made in the past decade. These people often cite the introduction of the resort and casino idea as opposed to simply the traditional casino and hotel.
A resort, when done properly, puts the casino in a secondary place in the larger complex of services. These would include a convention center, theater or theaters, a water park or amusement park, shopping, dining, family-friendly activities and so on. The resort and casino idea began in Singapore and now is popular in many locations. The new casino complex in the Catskill Mountains is a resort and casino complex.
Northern New Jersey a Natural for Gambling
A third opinion sees sports betting in Northern New Jersey as perfectly reasonable because they are both part of the New York City metropolitan area. Some say that as winter approaches and sports betting gains interest as the college and professional football seasons move along to their separate conclusions, the weather will turn nasty making driving to Atlantic City far less desirable than driving into Northern New Jersey.
This last argument ignore the convenience of online sports betting and online casino gambling from the convenience of home safe from the difficulties of travelling in wintery weather or the sudden downpours that regularly strike the New Jersey area in the summer.
Resort and Sports Betting
The expansion of land based casinos to Northern New Jersey is still far away. In any case, the increasing popularity of the resort and casino idea would require the influx of hundreds of million of dollars in investments just to bring land based gambling to the Northern New Jersey population centers.
Proponents of bringing full scale land based casino gaming to Northern New Jersey are now saying that the timing is not quite right. Three new casinos are due to open in New York State just across the border.
These advocates of expanding land based casinos in New Jersey are waiting to see how well the new casinos do. They know that bringing another land based casino to the large metropolitan area may be beyond the means of even the most adventurous of venture capitalists.
One item specifically mentioned is that a sports betting facility can generate a great deal of money without casino gambling alongside it. And, that opening "just" a casino is no longer a viable option. If the state legislature in New Jersey were to vote to expand land based casino gaming to outside of the Atlantic City area, it would likely require a resort and casino complex at very high cost.
So, for now, sports betting in New Jersey is off to a great start. We will look closely to see how it grows as the football seasons move toward their playoffs.