Some people close to the casino industry say that the advent of sports betting will impact the casino business negatively. Others say that sports betting and casino gaming are only two sides of the many-sided gambling business and that there isn't necessarily a one to one relationship between sports betting and casino gambling.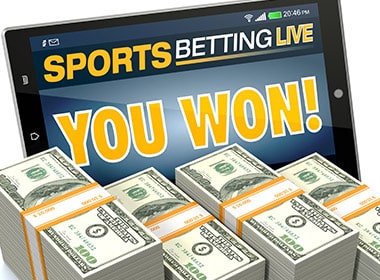 At Slots Play Casinos, we focus mainly on the online casino side of the industry and we keep an eye open to the land based casino side of the industry. Developments in the sports betting area continue to make the news so we report on them as well.
Sports Betting Online or Land Based
Sports betting is the newest form of legal gambling. This is important because it was illegal for so many years—more than a generation—in all but four states and even in those four that the law of 1992 called PASPA grandfathered in, only Nevada had fully-developed sports betting.
In May, 2018, the United States Supreme Court voided PASPA on constitutional grounds. It is now up to the states to implement sports betting or not. Sports betting was illegal in 46 states but illegal sports betting thrived in those states. One of the biggest reasons for formerly illegal sports bettors to go legal is that the casinos and sportsbooks that will now be taking legal sports bets will also offer substantial bonuses similar to the online casino bonuses for new players that began as a one-time promotion and ballooned into a must for all online casinos.
Sports Betting as an Independent Side of Gambling
A decision came down last week in a case in New Jersey that shows that the courts see sports betting as independent of all other forms of betting or gambling. The case involved the New Jersey Thoroughbred Horsemen's Association (NJTHA) which claimed that five major American sports leagues—four professional and one amateur — the NFL, NBA, NHL, MLB, and the NCAA owed the NJTHA several million dollars plus interest and damages because the leagues had at first opposed a reversal by the Supreme Court of PASPA.
The judge who issued the recent decision had months earlier disallowed the desire of the Monmouth Racetrack and Casino to accept sports bets. This all took place before the Supreme Court's decision to void PASPA. In the run-up to the Supreme Court's decision, the five leagues did indeed oppose any change to PASPA.
Since the Supreme Court's decision, these leagues have all changed their tune and are now looking to cash in on the bounty that legal sports betting will bring. So Monmouth Racetrack and Casino feels that it was damaged by the leagues' opposition to legalizing sports betting which Monmouth claims contributed to the earlier court decision denying Monmouth the right to take spots bets.
Just last week, the same judge ruled against Monmouth. In essence, the judge is saying that Monmouth was denied the right to take sports bets regardless of the positions of the leagues and that it is irrelevant that the leagues have now changed their positions in the wake of the Supreme Court decision.
Sports Betting as a Massive Business
The first lesson to be learned from all of the recent court activity surrounding sports betting is that everyone sees legal sports betting as a future cash cow. States will benefit from tax revenue that they could never collect when sports betting was so predominantly done illegally. Leagues will benefit as they take a fraction of all wagers and sell information to bookmakers. Finally, as teams become wealthier as they share a piece of the sports betting pie, players will demand and receive large increase in their already lucrative salaries.
Sports Betting and Democratic Socialism
As billions of dollars flow to large business entities and their prized employees, namely players, coaches, and managers, the cost of all this will slowly filter down to the average person. Not only will sports bettors pay for some of this new wealth through their bets. In fact, the bettors will likely not feel the change in their bets at all. They will feel it in the cost of everyday items and services they buy.
Legal sports betting will cause a rise in the cost of doing business for all sports teams. They will raise ticket prices accordingly. Average people will ultimately be priced out of the market for tickets to sporting events. Corporations will buy up these tickets and will use them as marketing tools and as bonuses to employees. As business costs go up, the cost of everyday goods and services will go up.
Politicians of the Democratic Socialist political viewpoint—still part of the Democrat Party and soon to take over the Democrat Party—might see this new wealth and the subsequent high cost of daily living for average people as an affront on society and may demand nationalization of sports leagues.
States Clamoring to Legalize Sports Betting
Only five states already have full-fledged sports betting. Nevada always had it; New Jersey led the fight against PASPA so they were ready to jump into legal sports betting immediately; Delaware, West Virginia, and New Mexico came aboard quickly; and Mississippi, with a well-developed land based casino industry quickly set up sports betting through those casinos.
Other states seemed to be in a waiting state. Arkansas, New York, Pennsylvania, and Rhode Island recently passed sports betting laws but are not fully on board yet. Sixteen other states have laws pending. That means that a sports betting law was proposed formally and now the matter is winding its way slowly through theses states' legislative processes.
Fully twenty-six states still have not so much as entered a law into consideration. Now that a lower court has ruled that any gambling establishment that felt itself suffer financially from the sports betting rigmarole has no claim against a league or a state, many people feel that most if not all of the remaining states will rush to implement legal sports betting in their jurisdictions.
In as few as five years, the sports scene in the United States, both professional and amateur, may be totally different than what we see today. There is no way of knowing if the average fan will continue to follow their favorite teams in the future. After free agency came to professional sports, and salaries rose dramatically, people were afraid that the average fan would be turned off to organized team sports. That did not happen.
Now, leagues and players are gambling on the possibility that fans will stay loyal even as profits rise, salaries climb ever higher, and the cost of even a minor league professional game becomes exorbitant.