Just a few days ago, Buffalo Wild Wings announced that it is in the late stages of negotiations with DraftKings for a marketing arrangement between the two companies. The reason the announcement is so newsworthy is because 1) the negotiations have not yet been completed and 2) the partnering of DraftKings, which offers daily fantasy sports to millions of players throughout the United States and has also just recently opened an online sports betting site in New Jersey, seems both premature and odd from a business standpoint.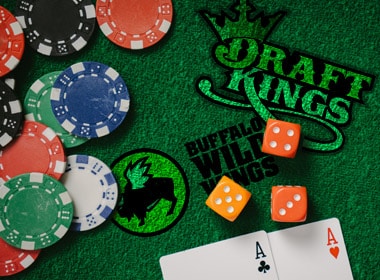 For DraftKings, offering online sports betting was seen as just another in the long cavalcade of casino bonuses online gamers have enjoyed since online gaming began some twenty years ago. Casino bonuses are far more plentiful at online casinos than at land based casinos because one's time at a land based casino is always limited by the need to return home while at an online casino players are almost always already at home.
Restaurants and Gambling
Restaurants have long been reluctant to advertise along with gambling sites both online and land based. There is the notion that the people who frequent restaurants might not want to be overtly affiliated with gambling. This doesn't mean that restaurants managements oppose gambling. Aside from the business gamble inherent in the restaurant business, gambling is by now so extensive in western society and all affluent societies elsewhere in the world, that being associated with gambling might not seem the drawback today that it once was.
Buffalo Wild Wings is taking this notion a step further. They see that the demographic group that is most enamored of sports betting is the same demographic with which Buffalo Wild Wings is most popular. This demographic is primarily male and includes both single men and men with families.
Buffalo Wild Wings realizes that it is not set up to go into the sports betting business alone. DraftKings is so well known for its daily fantasy sports operations that a partnership with them, in the eyes of Buffalo Wild Wings, means that the restaurant chain will be able to offer sports betting to its primary cohort of customers and will be offering sports betting under the aegis of one of the most respected sports betting companies around.
Buffalo Wild Wings was clear that it sees sports betting as a way to enhance its customers' "restaurant experience".
Possibly a Brilliant Business Decision
For Buffalo Wild Wings, they see that many of their customers like to bet on sports. In most states, sports betting will go through land based casinos. These casinos may be far from Buffalo Wild Wings' customer's homes. By making sports betting available to customers as they and their families enjoy a fine meal, Buffalo Wild Wings hopes to be seen as a restaurant that offers far more than a good meal.
At First Not a Sports Betting Site
We might recall that until the United States Supreme Court nullified the law called PASPA—Professional and Amateur Sports Protection Act—thus allowing all states to offer legal sports betting as the states saw fit, DraftKings was adamant in presenting itself as a conduit for friendly competition on sports but would not consider calling itself a sports betting site.
After the Supreme Court decision, DraftKIngs went into immediate overdrive, selling itself as the perfect company to bring sports betting to the several states, especially to New Jersey at the outset, because it knows the sports betting business so well.
Sports Betting
Sports betting is different than many casino games for a few reasons. In sports betting, all the information you need is directly in front of you and easily accessible. There are so many sports and so many events that sports bettors can enjoy sports betting to the exclusion of every other gambling game offered.
Sports betting is most closely related to poker and blackjack because the latter two games also require analysis. However, even in poker and blackjack, there is hidden information that never is revealed until the outcome of the game is determined.
In sports, a gambler has access to all the information he or she needs without exception. It is the sports bettor's ability to analyze the information into learned and contemplative gambling decisions. Sports betting enthusiasts often recall the words of Spike Lee who famously said before an important game between the Yankees and the Red Sox that sports are so good "because they can't be scripted".
Slots and other casino games are also not scripted but only in blackjack and poker does a player have the chance to truly analyze his or her next step. Sports betting goes further; all the information is available and the long term outcome of gamblers sports bets is completely connected to their analytical skill in addition to the modicum of luck inherent in sports.
Sports Bar and Restaurant
A spokesman for Buffalo Wild Wings explained how the restaurant chain came to the conclusion that it should also get into the sports betting arena. "As the largest sports bar in America, Buffalo Wild Wings is uniquely positioned to enhance the restaurant experience for our guests. We are actively exploring opportunities, including potential partners, as we evaluate the next steps for our brand."
Regulations
Buffalo Wild Wings admittedly knows little about sports betting regulations, how to set up a sports betting area, and all other legal steps they would need to take to enter the sports betting market. Thus the attempt at partnering with the people at DraftKings who are experts in exactly the areas where Buffalo Wild Wings lacks expertise makes so much sense.
DraftKings sees the national reach of Buffalo Wild Wings as a way to expand its exposure to the sports betting public. The partnership between them seems like an excellent chance to further each company's brand.