Slots Play Casinos is revisiting Springbok Casino and we are happy to report that there is still is so much to like about Springbok Casino! The obvious things are:
Hundreds of online casino games in many game categories.
All currencies are converted into Rand which makes Springbok especially suitable for South African gamers.
New slots every month from SpinLogic.
Great promotions.
Easy and safe banking with many withdrawal methods including bitcoin.
Attentive and knowledgeable customer service representatives.
Information about travel to South Africa.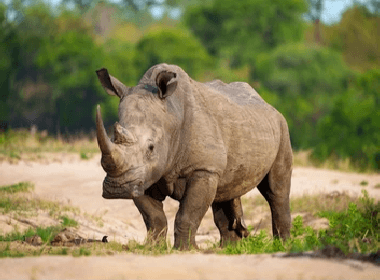 Why Does Springbok Casino Talk about Travel to South Africa?
Springbok Casino sees itself as a lot more than "just another online casino"! Springbok sees itself as a representative of the better side of South Africa and there are a great deal of activities that tourists enjoy in South Africa.
The most popular tourist activity in South Africa is the safari. So, at the bottom of the casino's homepage, there is a large section about South African safari exploits in great detail.
Travelers to South Africa encounter the Big Five safari animals! These are:
African rhinoceros
African buffalo
African lion
African leopard
African elephant
Keep in mind that many animals are also common to other areas of the world. For example, the Indian sub-continent has many elephants and buffalo are featured at many animal refuges in North America. The rhino, the lion, and the leopard are very African animals but not every safari gets tourists up close and personal with these grand animals.
South Africa is a Great Tourist Destination
Once again we are at the bottom of the Springbok Casino homepage and we see an article about wine, sharks, dolphins, whales, other wildlife, and what the casino calls "animal friendships".
The casino plays in the currency of South Africa so if a gamer deposits in any other currency, including bitcoin, that deposit is converted into Rand.
Springbok has many deposit methods and can convert most currencies into Rand so it is really serving its South African gamer base by accepting Rand.
Springbok Excels at Gaming, Too!
Springbok Casino has a few hundred games in many categories. Let's look at slots first. Springbok features a new slot every month. That means that the casino acquires at least twelve new sots every year.
Since an online casino never has to take a game out to bring in a new one—something that does happen at land-based casinos that are all limited by the space within their four walls—so the library of fun and exciting slots simply continues to grow and grow.
This flexibility of online casinos makes it possible for SpinLogic, Springbok's exclusive game provider, to experiment with different slots ideas. For example, the new slot at the time of this writing is called Neon Wheel 7's and it is a throwback slot to the time all slots had three reels!
Slots Take Color to a New Realm!
Possible the single most visible "change" in slots in the decade since Springbok Casino came online is that color is being used more and more often! Slots were always colorful but these days color has seemingly become a slots icon in itself!
In addition to Neon Wheel 7's, recent colorful slots include Doragon's Gems, Gem Strike, Sweet 16 Blast, and Penguin Palooza.
The colors themselves seem brighter and more visibly attractive somehow!
Springbok Gamers Love Table Games
Whether a gamer is looking for a diversion from hundreds of happy slots or is mainly a fan of online casino table games, Springbok has a wide assortment of table games to choose from.
These include blackjack, baccarat, Caribbean Poker, Pontoon, and Pai Gow Poker. As all of these games have different rules, Springbok offers unlimited free play so you can learn the nuances of each game at no risk to your bankroll.
Video Poker Presents Fascinating Challenges to Gamers
Springbok offers fifteen different variations of video poker. The most important element in video poker is the gamer's ability to see the potential in a hand and to act accordingly. This is harder than one might imagine since gamers often have to break up a winning pair in order to go after a much better-paying hand.
Video poker players also have to be able to bet the maximum on every hand since that is how they can qualify for the big payout for a Royal Flush.
Springbok Has a Big Lineup of Specialty Games
The most popular are Fish Catch, Banana Jones, and treasure Tree. The casino offers both American and European Roulette. We recommend playing European Roulette and to stick with the even money bets. The difference between these two forms of roulette is simply that American Roulette has 0 and 00 while European Roulette has only the single 0.
The difference is that the house edge in American Roulette at about 5.5% is about twice the house edge in European Roulette.
Rounding out the specialty games are Keno which we don't recommend for gamers, and Craps which is a fascinating game that has a few complicated rules so gamers should stick with the simplest bets until they have learned all of the nuanced bets.
Springbok and Slots Play Casinos Team up for Great Bonuses
We offer exclusive bonuses for Springbok Casino. In order to see what these bonuses are, we invite you to go to the Slots Play Casinos homepage and in the center of the page there is a display of bonuses for many casinos through SPC.
First choose the drop-down menu to the right for the bonus you would like to get and then choose from the drop-down menu for the casino through which we offer this type of bonus.
Slots Play Casinos Recommends Springbok Casino Very Highly.
We have touched upon many of the reasons we like Springbok. We also suggest that you contact the casino with any question you might have to test the customer service waters.
Slots Play Casinos has something interesting in common with Springbok Casino: just as Springbok sees itself as representing South Africa, we at SPC see ourselves as advocates for online casino gamers!
We urge you to COME TO SLOTS PLAY CASINOS OFTEN for excellent and up-to-date information about all things related to online casino gaming!