We are well aware that in the run-up to the Supreme Court's decision regarding the constitutionality of PASPA, the law from 1992 that made sports betting illegal in all but four states, Delaware, Montana, Oregon, and Nevada, where it was already legal, we've been reading reports, predictions, and analyses ad infinitum. However, there are still a couple of areas that the court's decision will impact, that you may not have read about if the court decides that PASPA is unconstitutional.

If Court Says No
If the court upholds the constitutionality of PASPA, nothing really changes; online casino gamblers will simply continue to play slots, blackjack, poker, and other casino games online. All the gearing up states and casinos are doing is based on the possibility that the court might declare PASPA to be unconstitutional.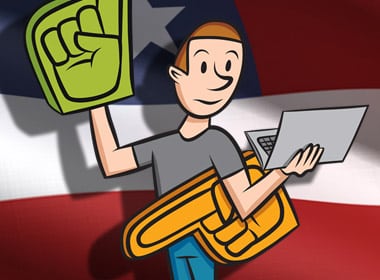 Fantasy Sports
Probably as a result of the illegality of sports betting in most jurisdictions, people, especially young people, have flocked to fantasy leagues. In those leagues, participants "draft" players and follow them every day. The performance of individual players is far more important than the performance of real teams since in a fantasy league, the "teams" are made up of the players drafted for the teams so there is profound inconsistency between the rosters of fantasy league teams and real teams.
The challenge to sports betting sites and casinos will be to lure the millions of people who have come to love fantasy sports and might not care what any one real team did that day against any other real team.
Fantasy sports offer the kind of flexibility that team betting doesn't permit. A fantasy player acts as the manager of his or her own team and they make out the lineup for each game based on their roster. In real sports betting, you might bet against a team that is playing poorly but in fantasy sports, you have the chance to make the changes you want to make. Thus, fantasy sports offer a completely different kind of gambling action than straight team betting offers.
Crossover Gamblers
Some have noted that the most committed fantasy sports players were crossover gamblers. Most started out in poker at both online and land based casinos. They moved almost exclusively to online casinos for their poker action. When fantasy sports became a gambling option, they moved away from poker to the newest action around.
The great unknown is whether these gamblers will make the switch from fantasy sports to real life sports and what would it entail for the gambling industry as a whole. If these action seeking gamblers switch to legal sports betting at an online casino, would it spell the end to fantasy sports betting? Would it bring about a "Golden Era" for online casino gambling in general?
Land Based or Online
Given the penchant for fantasy sports, the question remains whether the Supreme Court decision will allow sports betting online or just at land based casinos and other sports betting venues. It might make regulation more cumbersome if the court includes online as a platform for sports betting, but the great growth in mobile casino gambling means that, if sports betting is not allowed online, there may be a very large cohort of gamblers who simply won't bother.
Mobile gambling is twice removed from land based casino gambling so that a large group of gamblers will likely want to be able to place their sports bets on their mobile device or not at all. News reports on the subject cite many players who already use their mobile device to illegally place sports bets with bookies.
The difference that would obtain were the court to give the go ahead to sports betting is that these gamblers might be able to make legal sports bets with their mobiles. And, if not, they may go back to making illegal sports bets rather than travel to make a legal one.
It has also been pointed out that the illegal sports betting market in the US is about 150 billion dollars per year. That means that gamblers love to bet on sports; that the laws against it aren't being enforced; that gamblers prefer betting from the convenience of their home rather than travel to place a legal bet; and that inconvenient yet legal sports betting probably wouldn't work.
Some States May Opt Out
At this writing, only four states have already passed laws allowing sports betting in anticipation of the expected green light from the court and fourteen states have laws already in the legislative pipeline. That leaves twenty-eight states that have not yet decided whether to join the sports betting crowd or not.
Congress
In a controversial move thirty years ago, California tried to close a card game on Indian land. The case eventually went to the Supreme Court which decided in favor of the Native-Americans. That decision opened the floodgates for legal land based casinos on Indian land and Congress quickly passed a law regulating the casino business on Native-American lands.
In a similar step, if the Supreme Court decides that PASPA was unconstitutional, Congress may quickly pass a law regulating sports betting. Some states that have legislation to that effect pending have said that the lack of comprehensive regulatory legislation, by which they mean Federal law enacted by Congress, is hampering their progress toward legalizing sports betting.
Prognostication
It would appear that legalized sports betting in the US generally is inevitable. Even if the Supreme Court upholds PASPA, the states have begun pushing for the right to legalize and regulate the practice. That would put pressure on Congress to rescind PASPA or rewrite it in light of twenty-first century needs and practices.