Australia has become a major center of casino gambling of Asia and the Pacific Rim. The country's liberal gambling laws facilitate easy access to casino entertainment with dozens of casino sites operating throughout the Land Down Under. The government maintains a list of the top 10 Casinos in Australia to help gamers identify the best venues for their gambling activities.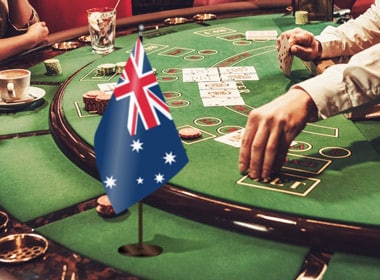 Aussie Gaming
Australia has one of the highest percentages of residents who participant in real money gambling. In Australia gambling is regarded as a recreational activity so there are no taxes imposed on winning payouts for either land-based or online gambling activities. Operators of land-based Australian casinos are taxed based on the casino's turnover, player loss and the casino's net profit.
In Australia, gambling is regulated at State/Territorial level. The federal government does not interfere with state/territory laws and does not regulate offshore casino gaming. The Aussie casinos are taxed on their business activities and the  Federal, Territorial and State governments use revenues from these taxes to fund local projects and programs.
The recognized Australian 10 top casinos include:
The Star City Casino in Sydney

The Star Casino of Sydney is located in the Sydney suburb of Pyrmont. It overlooks the Darling Harbor, giving casino patrons an enchanting view of the ocean that they can enjoy while they play their favorite games. The casino has two gaming floors that are loaded with slots, parlour games and traditional table games. There are also Electronic (Gaming Machines) plus Poker and Blackjack tables.

Adelaide Sky City of Adelaide

Adelaide is known as the 'Traditional Home of Australian Poker." The Adelaide Casino is of the first casinos to be built in Australia with a wide range of game options along with multiple poker variations and poker tournaments. Gamers who want to participate in a poker tournament can buy into their preferred tournament for as little as $125. Tournaments are offered on a regular basis throughout the week. There are also cash poker games that run constantly.

At the Adelaide Sky City Casino gamers can enjoy jackpot games in which participants compete against each other for jackpot prizes. VIP gamers are invited to play in the exclusive Grange Room, Fort Knox Black Room or Platinum Room where there are dozens of high stakes table game choices.

Casino Canberra

The Casino of Canberra is a cozy Canberra site with a poker lounge, multiple playing areas and a sports bar. There are two roulette tournaments every month with a prize bool that ranges from $3000 for a first place win to $500 for a third place win.

Wednesday players are welcome to join the Wicked Wednesday Lucky Dip that takes place from 5:30p.m. – 7:30p.m. every Wednesday. The first 50 participants that participate in the Wicked Wednesday competition can redeem one entry ticket to participate in the draw. Each participant picks an envelope and every envelope wins a prize. Total prize pool is valued at $6,750.

Pullman Reef Hotel Casino

The Cairns Pullman Reef Hotel Casino is one of the top Queensland resorts with an outdoor pool, plus 4 restaurants, 4 bars and a gambling lounge. The casino is set close to Cairns Marlin Marina in northwest Australia.

The high-end casino hotel is 3 minutes' walk from the Sunlover Reef Cruises departure point so vacationers can enjoy Great Barrier Reef tours during the day and casino entertainment in the evening.

The Star Gold Coast

The Star Casino is a Gambling Center for the gold Coast with upscale

restaurants, bars, gaming tables, gaming machines and hotel amenities such as a day spa, a theatre and poolside cabanas. Every day, starting at noon every day, you can play cash No Limit Texas Hold'Em Poker on the Main Gaming Floor. With a Membership card you'll receive a text on your mobile when your seat at the Texas hold'Em Poker Table becomes available.

Crown Perth

At the Crown Perth in Perth you can enjoy posh rooms, a pool, whirlpool tubs and gambling fun. The casino is set in on the banks of the Swan River and offers s a 24-hour casino entertainment. There are also 32 bars and restaurants plus live entertainment.

Treasure Casino

Brisbane's Treasury Casino is located in a converted government building that overlooks the Brisbane River, This Queensland casino site is 10 minutes from the Queensland Museum and a 9-minute walk from Queensland Performing Arts Centre.

The resort's four restaurants feature simple comfort food  plus Asian, European and seafood cuisines.

Wrest Point

Wrest Point, in Hobort is in Tasmania, in southeast Australia. Wrest Point Tasmania offers popular table games including blackjack, poker, craps and electronic gaming machine. The casino features Keno and TOTE. There's A VIP gaming area

The gaming area opens at 2:00p.m every day and stays open until late each night. There are Blackjack Tournaments every day with three elimination heats that culminate in an exciting final round. There's a minimum $3,000 prize pool.

Ville Resort-Casino

The Ville Resort-Casino offers casino entertainment in a resort setting. Resorts guest can enjoy luxury rooms, cafes/ bars and an upscale steakhouse as they explore the Reef area. The casino opens daily with 400 gaming machines and table games.

Crowne Plaza Alice Springs Lasseters

The Alice Spring Crowne Plaza is located adjacent to the Alice Springs Convention Centre, a kilometers and a half from the Alice Springs Golf Club. In addition to the casino venue guests can take advantage of other resort amenities including a spa, a hot tub, a fitness center and an outdoor pool. There are three bars and four restaurants (including a poolside café). The casino opens every afternoon with table games, electronic gaming machines, tournaments and slots.