There is always a lot of news to report and we, at Slots Play Casinos, are on the ball. Every month a few of our recommended online casinos run special promotions that might include deposit bonuses, free spins, or both! As quickly as we find out about these promotions we pass the word on to you. So, in this article, we will talk about the promotions running in November at Uptown Aces, Uptown Pokies, and Red Stag online casinos.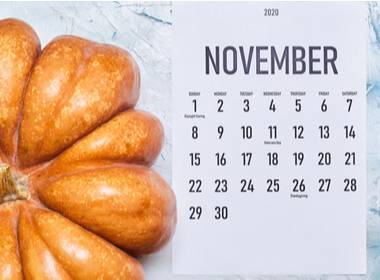 Gobble Gobble at Red Stag
Until November 22, you can get 64 free spins on Turkey Time if you are already a member of the casino and 125 free spins on Turkey Time if you are a new member. New members can also get a 325% deposit bonus for up to $650. Make sure you use the correct bonus code when you apply for either bonus.
New players can use their deposit bonus money and play freely since there is no maximum cashout for this promotion. The 64 free spins promotion does have a maximum cashout of $160.
Turkey Time Slot
In the United States, November is the month of Thanksgiving. The Pilgrims suffered a long, cold winter in the New World way back in 1620 and only the friendship of the local people—who, for centuries, were mistakenly called Indians since Christopher Columbus thought that he was finding a sea route to India where he would create a trading company in Eastern spices and are now rightfully called the Native Americans—saved their lives.
As a gesture of thanksgiving to both God and to the friendly Native Americans, the remainder of the first Pilgrim settlers hosted a grand feast. This custom remains one of the most prominent of all American holidays. It is the most family oriented holiday of all. In fact, the day before Thanksgiving is the busiest flying day of the year in the United States – everyone rushing home to be with family.
Let's hope that next year we will be able to celebrate Thanksgiving with our extended families from all points near and far.
The corona virus might be putting a damper on our Thanksgiving celebrations this year but at least Red Stag is offering us free spins on Turkey Time.
The oven is set; the turkey is stuffed and seasoned; the turkey baster sits at the ready for massive and frequent turkey basting. Yes! It's Turkey Time!
Froggy Froggy Wherefore Art Thou?
We suspect that Shakespeare never played slots at all but he has inspired us to tell you about the great November promotion at Uptown Aces and Uptown Pokies casinos. This promotion will continue until November 30 so you still have plenty of time to get in on the action.
As with the promo we detailed above, there is a free spins promotion for established gamers at these two casinos and a truly unbelievable promotion for new players. This month new players at Uptown Aces and Uptown Pokies will surely want to give thanksgiving!
Regular gamers at these two online casinos can receive 35 free spins on Frog Fortunes. There is a maximum cashout of $180. New players have it made in the shade! If you are a new player, you can get a 250% deposit bonus up to $2000 plus 125 free spins on Frog Fortunes. In this part of the November promo, there is no maximum cashout! So, with 125 free spins, you can have a great chance to cash out with a fistful of dollars.
Frog Fortunes
This slot is from Real Time Gaming. It offers 243 ways to win! The maximum win is small which makes it a low variance slot. That means that gamers get a lot of small wins. The return to player rate is about 96% so, along with the low variance, you can play this slot for a long time and it will take just a little luck to end up ahead!
That's what all those free spins and the massive bonus for new gamers are all about! Frog Fortunes has exploding symbols and cascading reels so there are many ways to add to even a single happy spin. After a session of free spins on Fog Fortunes, we think that even the most jaded gamer will be saying ribbit ribbit!
All the Casino News in One Online Site
Slots Play Casinos is a one size fits all site that encourages online casino gaming while at the same time offering news and reviews of the land based casino scene.
We have reviewed many dozens of slots and casinos and more are always in the pipeline. We try to keep you informed about promotions being offered by our recommended casinos. With instant play so readily available, these new player promotions are great for the gamer who wants to experience the best a number of online casinos have to offer!
From the entire Slots Play Casinos family, we wish everyone a Happy Thanksgiving and continued great gaming!