Here at Slots Play Casinos, we report on all kinds of news that is useful to our readers. The Playcroco no deposit bonus codes are very important for getting the bonus you are entitled to. In fact, all bonuses at Playcroco and most other online casinos have a special code that gamers have to enter to get a bonus, free spins, free chips, and many other promotional offers.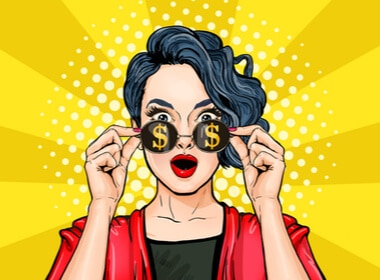 As much as we like to report on bonuses that our recommended casinos are offering, we especially like to report on big wins our readers have had. One of the happiest announcements we can make is to report on a big jackpot win at one of our reviewed and recommended casinos. To that end, we are thrilled to be able to report that Maya won $1.3 million dollars at Playcroco Casino!
What Game did Maya Play?
Maya placed a $5 bet on Aztec's Millions, which is 0.25 cents per 20 paylines, and it came up with bells and whistles to the tune of, well, a lot of money! We would like to describe the winning spin in slow motion so you get the full sense of how a giant jackpot can be won!
First a Peek at Aztec's Millions
If you look just at the King in Aztec's Millions, you might think that this slot is rigid and a bit military. The King certainly looks like he might be ready for battle!  But then we see the beautiful princess and we realize that Aztec's Millions is about a lot more than the King and his political and military exploits!
The princess has a brooch and a bracelet to adorn her clothing and her wrist! There are also a jaguar, a helmet, (there's the military side again), and an idol which serves as the scatter symbol.
The progressive jackpot is sponsored by SpinLogic, the game provider. This is how all big progressive jackpots work. Any given online casino has a worldwide reach but that reach is far smaller than the game provider's reach. The game provider takes a penny or two from every bet and thus the progressive jackpot grows penny by penny into the millions of dollars!
Slowing Down a Speedy Slot
Aztec's Millions spins very fast so, in order to relive the grand jackpot spin, we have to imagine slowing the spin down dramatically. The first reel revealed an Aztec's Millions symbol but there are a lot of isolated Aztec's Millions symbols. The significance of the symbol appearing on the first reel is that all wins aside from scatter wins start at the first reel.
Then the symbol shows up on reel #2 and Maya is getting excited! Like most gamers, Maya has not memorized the twenty paylines in Aztec's Millions but with two winning symbols and only three to go, Maya is reasonably excited.
Then the symbol comes up on the middle reel and Maya is starting to shake and bake. The symbol appears on the fourth reel and now May is beside herself with anticipation, hope, excitement, and visons of buying a few new things with the jackpot money and then, voila, the jackpot is won and Maya stares at her screen in disbelief!
"Did I really just win a progressive jackpot?" she asks herself.  Then we suspect that Maya started yelling in joyous whelps and woofs and maybe danced a jig or two and finally fell back onto the sofa in a swoon wondering how she can actually collect the largesse.
Slotocash and SpinLogic Came Along to Expedite Maya's Happy Win
We can't do any better than to quote Maya herself:
"The whole experience since winning has been positive, the support teams have been so helpful and positive. I can't thank them enough. A holiday and a new car are on the cards, and I'd like to buy a new house with my winnings too!"
What Should Maya Do with her Winnings?
We humbly offer to Maya a few tips about how to handle her big jackpot win:
Maya, oh Maya, please remember that Mr. Taxman will take a portion of the big win!
You definitely deserve a nice vacation as long as you spend just a fraction above what you normally spend for a vacation. In these post-corona virus days, we all need a vacation!
A new car might be a reasonable purchase but we feel strongly that you should stay with the moderately priced cars and eschew the Bentleys and Jaguars even though Aztec's Millions features a jaguar!
Since Maya is not your real name, we might encourage you to keep the big win a secret for now so you are not inundated with "friends" coming out of the woodwork with an open palm!
A new house may also be reasonable just as long as your spending on the new house is reasonable.
We certainly hope that you save a sizable fraction of the big win to invest in your future!
SPC Readers Love Playcroco
Now, most gamers don't win a million or more dollars! But Playcroco knows better than most online casinos how to make a gaming session a fun and entertaining experience. Playcroco has over 350 slots and many table games with variations such as blackjack and video poker. We also see roulette and many other games!
Playcroco has an extensive collection of articles that can help gamers learn the ins and outs of all of the table games so that gaming can be a totally fun time.
Slots Play Casinos is a Hands-on Casino Watchdog
Here at SPC, we report on many happenings that affect gaming at our recommended casinos and at all other online casinos. We return to our recommended casinos often to see if they still deserve our recommendation.
Thus far all of the casinos we have looked at a second time have passed our inspection with flying colors. Playcroco is no exception. The casino goes out of its way to help gamers play to win and to have fun, to deposit easily and safely, and the casino has attentive customer service representatives.
In order to read all about the best in online casino gaming, we urge you to open Slots Play Casinos often!