Sound like the beginning of a bad joke? There are three interesting news items about online casino regulation plus a report from the land based casino market in Las Vegas that are worth your time to read about this week. The news out of Nevada deserves a news article all to itself as it reflects many aspects of the United States gambling market, so this will be covered in a separate article.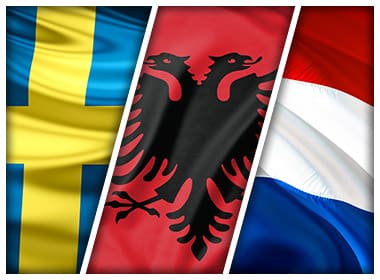 We at Slots Play Casinos continuously strive to report as much as we can on events that impact gaming and gambling both in the United States and outside it and both at online gaming sites and at land based sites.
Today, let's get back to our beginning question: What do Albania, Sweden and the Netherlands have in common? Answer: they're all dealing with gambling regulatory issues.
Albania
Albania's President Ilir Meta signed into law new restrictions on both land based and online casino operations. First, all land based casinos will have to relocate to areas more often frequented by tourists and other guests. The idea is to restrict gambling by the Albanian people themselves.
The law also forbids entirely all online gambling operations which are defined in the law as operating from a "remote location".
The laws passed by a unanimous 75-0 vote from the ruling Socialist Party. All opposition parties refused to even attend the session during which the vote was taken. In addition to the vote being overwhelming to reduce legal gambling to as close to zero as possible, the law also showed that there is a stark political contrast between the socialists and all the others.
It remains to be seen if the people of Albania will continue to be happy with a ruling socialist party that is unanimously opposed to individual freedom.
The law also set new restrictions on gambling advertising.
Sweden
In diametric opposition to the situation in Albania, Sweden has a functionally unregulated online gambling market. In fact, there are strong regulations in place for local operators which they have been reluctant to follow. So, local online operators are leaving the online gambling market open to outside operators.
The government in Albania might be surprised to note that remote casino operators in Sweden have produced great strides forward in generating revenues for the government.
All interested parties are anxiously waiting to see how the new regulations will affect the successful gambling scene in Sweden. The new regulations were passed in the Parliament in August 2018 and are set to go into effect on 1 January 2019. Some Swedish companies have already received licenses to operate online casinos after implementation of the new law but all of these operators are regulated outside of Sweden.
Contrast between Sweden and Albania
There are two main areas of contrast between Sweden which has seen growth in its online gambling sector without functioning regulation and Albania which has banned online gaming altogether.
Religion
It is safe to say that Sweden is fully under the influence of post-Christian European values. Without placing too strong a political bent on this phenomenon, it is still correct to say that there are few if any objections to gambling on religious grounds.
The opposite is the case in Albania. There religious sentiment still runs high and gambling is denounced in Islam, the primary religion in Albania. So, while it is politically dangerous to oppose gambling on religious grounds in Sweden, it is entirely acceptable to do so in Albania.
Technology
One of the reasons cited for the fast growth of online gambling in Sweden is that the people are almost entirely internet savvy. Even older people, who are slow to become computer savvy in some countries, are very sophisticated around computers and digital equipment in Sweden. This is by far not the case in Albania.
Mobile gambling has by now bypassed desktop gambling in almost all Western countries while in developing countries like Albania, computer ownership is far from being universal. In Sweden, the average household has more than one computer while in Albania the ratio of computers per average household is still less than one.
The relative lack of digital knowledge and devices in Albania may explain to some degree why the new law was so popularly passed. In the next twenty years, as young Albanians become more internet and digitally savvy and possibly less religious, the government might find that it has to liberalize its gambling laws.
The Netherlands
Here the sophisticated population is still under the legal auspices of strict anti-gambling laws. The law in The Netherlands states that online casino operators must first acquire state approval before they can advertise to reach a wider online gambling audience.
CyberRock Entertainment NV is licensed and regulated in Curacao and Honeydew Trading LTD is licensed and regulated in Cyprus. They were found guilty of trying, without government permission, to lure new players from The Netherlands to play at these outside online casinos.
The fines amounted to a total of €350,000 which may seem small when compared to the overall gaming market in The Netherlands but it does send a powerful message to all online casino operators that they too could be subject to fine if they fail to receive government permission to advertise to Dutch gamers.
In other words, the old adage restated to reflect 21st century governmental authority, "The government giveth and the government taketh away", stands stronger than ever in The Netherlands. Where the fines imposed were big but not so very big, the next set of fines might be far larger given that these fines constitute forewarning to all others.
Lessons to be Learned
The three news items demonstrate first of all that even the most liberal government is far more powerful than any governments were in past generations. Governments today feel that all aspects of our lives are fully in their hands to regulate.
Secondly, there is no clear way to determine how religious sentiment will affect the government's response to gambling. Post-Christian Sweden has done well with little regulation while post-Christian Netherlands is trying to impose its will on gambling in the country with religious fervor. And strongly Islamic Albania is also trying to veritably eliminate gambling from the range of activities acceptable by the state for its citizens.
Third, there is a lot of money at stake in the gambling business and governments will want to get their hands on the money.
Fourth, there seems to be some correlation between digital and internet sophistication and the proliferation in gambling in those countries. So, as the world gets richer generally and thus can afford digital devices and internet connections, there will be growing demand for legal gambling on the part of the citizens and growing demand for increased regulation on the part of governments. It's a win-win.