Recent developments have demonstrated just how interconnected the world economy is. A strike by Air France personnel has grounded some 30% of flights including many flights to the United States. The tariffs imposed by President Donald Trump have been received with both strong approval and strong disapproval and have sparked fears of a global trade war. The advance of online casinos in the US and elsewhere poses a challenge to land based casinos that cannot do much to overcome the eminent convenience of playing online games rather than travelling to a land based casino to play the same games.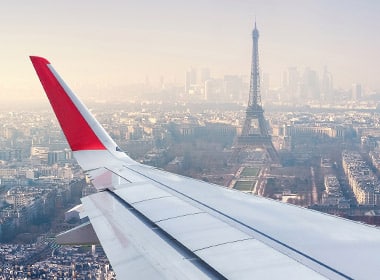 Air France Strike
The strike that took place on Saturday night April 7th was the fifth strike by Air France employees since February. They are demanding a 6% increase in pay and the airline is offering only a 1% raise. The employees say that they have have six full years without a pay raise and deserve more than the meager 1% offered by the state-run airline.
Because the airline is run by the state, it falls to President Emmanuel Macron to deal with the inconvenience the strikes have caused. So many flights have been cancelled that international commerce is being affected. It covers resupplying duty free shops which have not sold the amount of goods expected because of the strikes, businesspeople on their way to important meetings, and holiday tourists on their way to many locales around the world. Many of these latter have reservations for which they cannot get a refund so they stand to lose much money in the confusion.
Land based casinos rely on smooth transportation for their continued viability. When a flight of several hundred passengers cannot take off in France, the hotels lose money on rooms not occupied. The casinos lose money because the tourists are not there to gamble. Restaurants lose, entertainment venues lose. In short, a strike thousands of miles away in France affects casinos and ancillary businesses in many parts of the world.
An underappreciated side effect of canceled flights as they impact the casino business is that as bad as the strikes are for land based casinos, they are excellent for online casinos. As people access an online casino, possibly for the first time, they draw away business from land based casinos.
Tariffs Pro and Con
Tariffs are said to have snowballed into the Great Depression suffered by the entire world during the 1930's. The tariffs imposed by President Trump may not have such dire effects as was the case almost 90 years ago. Nevertheless, many economists continue to insist that any tariffs are bad for the country that imposes them. They are said to be a kind of tax on the entire citizenry of the country even as they help maintain employment in the specific industries.
A trade war would be very bad indeed for the United States and the world at large. The US has massive public debt, in excess of $20 trillion dollars. The three iconic social programs that most Americans rely on—Social security, Medicaid, and Medicare—are essentially no longer viable in the long term. There aren't enough workers paying taxes to sustain them. Any sort of trade war would be devastating to the millions of people who rely on these programs for retirement income and health care.
If young people come to see that they are on the hook long term for these three programs which may be no longer viable when the young people need them, they might begin to cut back on so-called "unnecessary expenses" such as a trip to a land based casino. They might shun gambling altogether or choose to play online games instead of travelling to play.
Tariffs have also been criticized as endangering America's security because every weapon uses steel which will now cost far more than before. The huge tariff on steel, 25%, means that everything that uses steel will cost a lot more for the benefit of a relatively small number of steel workers.
A counter argument is that steel is so essential that a healthy local steel industry is needed to maintain America's long term defensive capability.
Online Casinos Thriving
There are so many ways people can gamble that land based casinos have to find more modern ways to attract people to them. Aside from lotteries, racing, and sports betting, online casinos offer many advantages that land based casinos cannot match. Payout rates at online casinos are higher because their costs are lower. There is never a wait for a game at an online casino. Online casinos may offer more than 600 individual games.
When you go from one game to another at an online casino, you don't give up your seat; you can always come back to the game you were playing and never have to wait.
A One World Economy
This article is not specifically about the many and manifest advantages of online casinos; it is about the interconnectedness of the world economy. No news that may impact a population many thousands of miles from where the news originated can any longer be considered benign. A strike in France may cost people their job in Las Vegas or Atlantic City; if people lose their job, they will go on the already strapped public dole; if a trade war ensues from the imposition of two tariffs on essential products, many people will lose their jobs and the world will plunge into an economic black hole.
So, we must all do our part to influence the people whose decisions impact us directly or indirectly that their actions have long-lasting and far-reaching consequences.