As difficult as it is to imagine, there will be a post-Covid-19 world; a world where international travel is no longer off-limits and hotels are overflowing with a steady influx of visitors.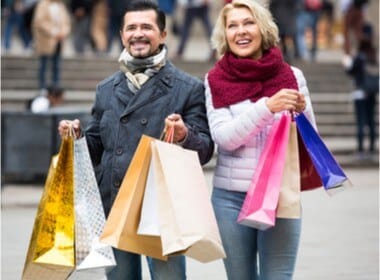 In this much-anticipated new world, the money-spinning entertainment offered by Liberty Slots Casino is not the only choice you have for a sustained adrenalin boost. If you are smart and ahead of the game, you are madly saving for the day when shopping is back to full swing!
As eternal optimists we firmly believe a post-Covid-19 world is just around the corner. In preparation for the day when 'liberty' is no longer a war cry in Michigan, Ohio and Colorado, here's a snapshot of the world's key shopping destinations, where driving a hard bargain is going to be a cinch!
If you have had your daily dose of high hit rate Liberty Slots – you know, the flagship games at the bonus-rich Liberty Casino – why not take a good look at where you can soon venture with a gold card firmly ensconced in your hand:
New York City
New York City may be the epicentre of the virus in the USA but its fame as a global fashion capital will never wane. Wander down Fifth Avenue and you can count the classic Big Apple stores off, one by one.
There is Tiffany's, the legendary luxury jeweller that has been going full steam ahead since the 1830s and Bergdorf Goodman, home to high-end everything from handbags, accessories and contemporary collections to couture and ready-to-wear clothing.
If the likes of Tiffany's, Bergdorf Goodman, Saks Fifth Avenue and FAO Schwarz are a bit rich for your blood you can always step across to Brooklyn for a touch of vintage shopping that is cheap at the price.
What bargains can you find in New York City? Well, apart from the free bonuses at Liberty Slots you can get anything your heart desires, from Levi jeans and retro couture to luxury wristwatches… all within a skip, hop and jump of the Manhattan Strip.
Singapore
Singapore is an uber-modern Asian city that has the propensity to surprise even the most jaded of travellers. It is clean, cutting edge and home to some of the most jaw dropping inner-city tropical gardens. The Supertree Groves in the Gardens by the Bay are worth a visit all on their own!
Although ranked one of the world's most expensive cities to live in, Singapore offers bargain box shopping at trendy markets in Chinatown, Haji Lane, Bugis Street and the Tanglin Mall Bazaar. You can literally buy anything at budget prices, from electronics and appliances to shoes and accessories.
Orchard Road features bargain stores, high-end malls and mimes, performing artists and buskers to add vibrancy to a serial Singapore shopping spree. If it is souvenirs, street food or cut-price clothing you are after, the flea market in Bugis Street has more than 800 stalls and is legendary for its rock bottom prices!
Once you have wandered around the glamourous Marina Bay with its trademark Venetian canals that run the length of the mall, you can load a few Liberty Slots onto your iOS or Android phone and replenish your shopping funds with a few well-placed 5-reel wins!
Milan
As the capital of Lombardy in Northern Italy, Milan was at the center of the Coronavirus storm. Thousands of Italians have succumbed to the virus and the city is only now awakening from its extended lockdown slumber.
Elegantly attired Milanese are finally returning to the streets and flagship stores featuring Versace, Prada, Chanel, Gucci and Louis Vuitton are opening their doors for business.
Fashion houses are designing new collections for a new era and you too can become a beneficiary of high-end haute couture with Milanese style… provided you have plenty of Euros freely at your disposal.
What are the hot shopping districts in Milan?  The streets in the prestigious Quadrilatero Della Moda are where you should be – Corso Venezia, Via Monte Napoleone, Via Manzoni, Via San Pietro all'Orto and Via della Spiga are home to all the prominent local and international fashion brands, from Dolce & Gabbana and Vivienne Westwood to Gianfranco Lotti and Jimmy Choo.
If you are looking for awesome deals, Il Salvagente in Via Fratelli Bronzetti has three floors of designer label clothing and accessories that are sold at discounted prices! Alternatively, the Liberty Slots at Liberty Casino have low betting stakes and generous cash prizes!
Hong Kong
For centuries Hong Kong has been at the centre of trade between the east and the west. It is an exciting city that perfectly encapsulates its history as a British island colony now with close ties to China.
The city features kilometres of elevated walkways, secret little parks, Michelin Star restaurants and a shopping district that extends from Hong Kong Central to Causeway Bay.
Here you will find an endless array of high-end and mid-priced shopping malls featuring luxury goods but if you are on a quest for a bargain, the Mong Kok district in Kowloon has to be your port of call.
The Temple Street night market is just the place for excellent street food and authentic Chinese souvenirs, Fa Yuen Street is the fashion and sportswear centre and there are dozens of factory outlets selling Chinese goods in Tung Choi Street.
For an extra special Hong Kong shopping experience check out the jade, flower and goldfish markets, they provide a taste of quintessential Kowloon!
You can also dip into authentic eastern flavoured gaming sessions by playing Dragon Master and other exotically themed Liberty Slots at Liberty Casino… it won't cost you more than a couple of dollars!
Liberty Slots
Right now, the world is still largely in lockdown.  That means you can't get your shopping fix just yet but you can enjoy the multifaceted real money entertainment that is always available at Liberty Casino, right around the clock.
All you have to do is claim one of the current Liberty Slots Casino bonus codes featured at Slots Play Casinos, register a real money account and play away to your heart's content – now how easy is that?  Keep your winnings safely stashed away until you can splurge on a pair of Jimmy Choo heels or a bracelet from Tiffany's!