The corona virus crisis appears to be behind us for the most part. Perhaps by the time you read this more states will have opened up. We can only hope that that is so! As such, we at sSlots Play Casinos know that some people will waste no time going to a land-based casino. All well and good but we are primarily an advocate of online casino gaming. So, if you decide to go on a "real vacation" which online casino should you take with you?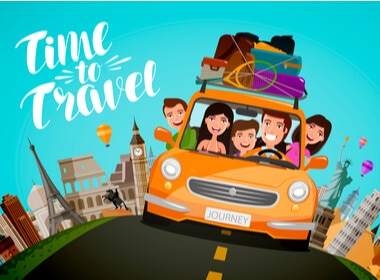 Thousands of Online Casinos Await Your Answers
A quick look at ouronline casinos reviews pagewill show you that there is no one single online casino that stands head and shoulders above the rest! What we have are pros and cons. Today we will look at the pros and cons of "taking" Intertops Casino Red with you on your vacation.
What is a Real Vacation All About?
Before we talk about Intertops Casino, we should talk about vacations. The main element of a real vacation, from the point of view of Slots Play Casinos and other casino industry watchdogs, is a vacation in which you don't go to a land based casino.
City people might want to go to the countryside and small town or exurban souls might choose to go to a big city. That is your individual choice. We would just like to show you the enormous number of options you have, whichever type of vacation you choose.
Going to the Countryside
One of the first things big city people notice about small towns is that the pace of life is a lot slower. Small towns that are geographically well placed usually cater at least to some degree to tourists. Thus you will find that the local restaurants are clean and well maintained. The menus are pretty extensive and the wait staff is almost always very friendly and helpful.
And country air is fresher than big city air!
The same applies to hotels and motels in small towns and rural areas. They may not be fancy but the proprietors are often quite eccentric in a good, small town kind of way. The internet has hundreds of thousand of pages of information about what to do and what to see in these small towns.
Finding a Gem "by Accident"
Years ago, as we were perusing the internet yet once again, we came across the Tuacahn Center for the Arts near St. George, Utah which as far as we were concerned was just a stop off point on our way to the famous United States National Parks of southern Utah and northern Arizona.
If you don't know about these great National Parks, they are Zion National Park and Bryce Canyon National Park in Utah and the incomparable Grand Canyon in Arizona! As it happened, Tuacahn puts on famous plays in an outdoor theater. As it happened, they were putting on a play on the night we were planning to stay in St. George in a motel we had found on the internet.
As it happened, the play they were putting on that night at Tuacahn was Oklahoma, one of our family's favorite plays. So, we all went to see "Oklahoma". It was hot but once the sun went down, the heat rose to the sky and we thoroughly enjoyed the play!
Always go back to the internet to look for exciting things to do whether your vacation is out in the countryside or deep within the urban skyscrapers of a giant metropolis!
Going to the City
Cities have wide choices in museums, night life, cuisine, city fairs, and a lot more. If you live in any large city, you might choose to go to the country unless you feel that New York City or Chicago are calling you.
New York City is Chicago about 50 times over. That might make Chicago seem small but, in fact, it shows how enormous New York is. We understand fully the attraction of these two great American cities.
The Role of Casinos
We understand the allure of the bright lights, bells, and whistles of a land-based casino. We simply feel that it would be better, if you are going on that vacation for which you have been pining for so long, to avoid land-based casinos. That is partly because there is so much to see and do away from land-based casinos. It is also partly because, with the vast improvements we have seen in mobile casinos in the past ten or so years, you can take the online casino with you wherever you go!
Here we will take a look at what Intertops Casino Red offers vacationers in the few minutes you'll access this online casino while on a real vacation.
Intertops Casino Games
Intertops offers over 300 excellent games. The game provider is Real Time Gaming which has a well-deserved reputation as one of the best game developers.
Online Casino Promotions
Intertops Casino runs several different promotions every month. They give away a lot of money in these promotions.
If you are already a player at Intertops Casino, you already know about their huge $5555 Welcome Package. If you are not yet registered at Intertops, be advised!
Read More
One of the things we like the most about Intertops Casino is that, in the slots section of games, for almost all of the 200+ slots, they invite gamers to READ MORE. This gives gamers a chance to read about a slot before playing it. Still, we wonder why there are about 15 slots without that short READ MORE blurb.
Guys, what are you waiting for? We want to "read more"!!!
For more information about Online Gambling read in our FAQ.
Dark Background
We do feel that a less dark background for the written pages would be easier on the eyes than the very dark background they use now – although this is a very individual preference.
Blogs and Articles
We like online casinos that tell players how to improve in playing their games! Intertops Casino also gets credit for emphasizing frequent short gaming sessions instead of the marathon sessions people have at land-based casinos.
Intertops also explains the nuances of games well so players can play them with confidence. The casino offers unlimited free play. When you are on vacation, you might want to budget all of your money for vacation things. Intertops makes it easy for you to get some online casino gaming fun at no cost.
Slots Play Casinos at Your Service
We try to cover the entire online casino market in its vast length and breadth. To get the most out of SPC, we urge you to drop in often and see what's new here and at online casinos.