If there was any doubt that the American sports betting market has seemingly unlimited upward potential, the news comes that MGM Resorts International has gone into partnership with Major League Baseball (MLB) in a deal that MGM recently made with the National Hockey League (NHL).
Before the Supreme Court knocked down PASPA, a law that had been on the books since 1992 ostensibly to protect professional and amateur sports from the temptations of gambling on the part of players and coaches and the predations of professional gamblers, there was a thriving illegal sports betting market in the U.S.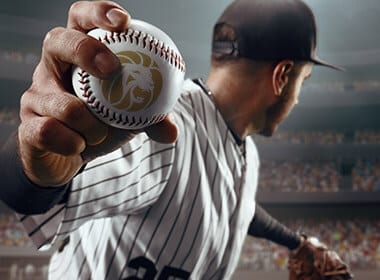 At Slots Play Casinos, we report on gambling news as it breaks. Although we are largely concerned with the online casino market, we understand fully that sports betting, gambling in general, and online casinos are intertwined with each other. Thus, both MGM Resorts International and MLB believe that there is a great deal of money to be made from combining the gambling expertise of MGM with the baseball expertise of MLB.
Challenge to Online Casinos
Some states and casino groups were quick to begin the process of legalization for sports betting and its regulation within the state's jurisdiction. Each state has the right to regulate sports betting as it sees fit. It is clear from the enormous political activity surrounding sports betting that the industry believes that the $80 billion that were wagered illegally I the United States in recent years is likely just the tip of the iceberg in terms of potential profits from sports betting.
Online casinos have redoubled their efforts to attract and keep gamers playing online. Amongst the developments are better graphics and other technologies and enhanced casino bonuses.
Leagues Opposed Rescinding PASPA
When New Jersey began the long process of challenging the constitutional validity of PASPA, every professional and amateur league in the United States opposed any change in the law. MLB especially was concerned about the possible effect of fully legal betting on baseball.
Baseball was rocked by a scandal in 1919 in which the Chicago White Sox lost the World Series to the far-inferior team from Cincinnati. As popular as baseball still is, MLB has not yet fully recovered from the 100 year old scandal.
In much more recent times, the superstar and enormously popular Pete Rose, who accumulated more hits than any other player in MLB history, was hit with a lifetime ban from MLB in any form after he finally admitted to having bet on baseball games even though he has always contended to having bet only on his own team to win.
The investigation of Pete Rose's gambling activity became highly controversial as time went on and the Commissioner of Baseball who levied the lifetime ban on Rose, Bart Giamatti, died of a heart attack very soon after he concluded the Pete Rose case.
So, it is truly remarkable that MLB has gone in with MGM on a gambling deal.
Official Entertainment Partner
In the sports world circa 21st century, many corporations and other groups try very hard to be designated the "official" something of a big game, tournament, team, or league. Many stadiums now have corporate sponsors. Any product that can be labeled the official one of a game or league feels that it amounts to a lot of free advertising for the product.
We have always said in terms of online casino gaming, that casino games should be first and foremost a source of entertainment for gamers. Still, it seems a bit euphemistic to say that MGM is now the "official entertainment partner" of MLB. That means that the television networks are not the official entertainment partners of MLB. It also means that any other company that affiliates itself at the business level with MLB is not an official entertainment partner of MLB.
What MGM Resorts International Gets
MGM can advertise all of its products and services through the auspices of MLB. The announcement used terms that laypeople may not be familiar with within the context of the agreement. So, MGM may now its brands and "gaming options" via MLB's "platforms", both digital and broadcast.
In layman's terms this means that whenever you stream a game on the MLB streaming network, you'll see a lot of advertising for MGM. It means that broadcasts of MLB games will feature references to MGM.
MLB has three primary platforms: MLB.com; the At Bat mobile app; and the MLB Television Network. Anyone who accesses these platforms will be exposed to MGM references that look as if MLB is officially sponsoring MGM which, in fact, according to the agreement, MLB is doing.
MGM also gets non-exclusive rights to all MLB "intellectual property" which basically means statistics and especially information about players. If MGM has information about players that the public doesn't know about, it could affect the ability of MGM to set odds in baseball games and could put sports gamblers at a disadvantage.
What MLB Gets
The announcement of the deal only said that MLB will get free advertising on MGM marketing materials. It further said that MGM would strengthen its "commitment" to MLB. MGM stated that it would be free to create similar partnerships with individual franchises.
Reports on the deal have stated that baseball is concerned with decreasing attendance at games. MLB hopes that the user experience of fans will increase attendance. Baseball has a disadvantage of sorts in that it has by far the longest season of any of the four main professional sports. Football has a 16 game season; while basketball and hockey play 82 games.
In addition, many baseball teams have gone full force into "tanking" which means accepting several seasons of extreme inferiority in return for possible success down the road by developing young players they got in trades for their star players or even their underperforming veteran players.
Instead of going into partnership with MGM, baseball might have reduced the number of games they play in a season, reduced the size of the teams proportionately, and reduced ticket prices.
Gambling and Baseball
It has been noted that to MGM, baseball is simply an adjunct element to their primary business which is gambling. In this sense, baseball becomes no different than a hotel, restaurant, convention center or any other "side" business that MGM feels enhances its casino business.
Baseball seems to be taking a far greater risk as it officially states to the baseball consuming world that henceforth gambling will be an official part of the baseball business.