We were looking at the main features of all of the casinos we have reviewed and recommend, and the promotions at Slotocash Casino stood out to us. We then thought that we might write an article about the difference between online casino promotions and land-based casino promotions.
Different they are!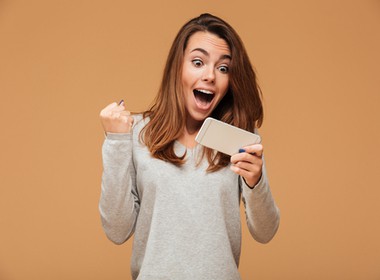 Online Casinos Have a Personal Relationship with Every Gamer
The key element in online casino gaming, as opposed to land-based casino gaming, is that players can play online every day if they wish to do so. Most players can play at a land-based casino only a few days per year and not at all during a medical crisis caused by a small but powerful virus!
As a result of repeat gaming by all of an online casino's players, the casino knows a lot about each individual gamer and about their gamers taken as a group. The feedback gamers give online casinos enables these casinos to tell their game providers the type of games they want and also gives the casinos an idea as to the type of promotions their gamers like.
In contrast, land-based casinos have a personal relationship with high rollers. These are gamblers that land-based casinos court with many special promotions all designed to get the players gambling even more! You don't have to be a high roller to get special treatment at an online casino and the best online casinos, such as Slotocash, try to increase the fun side of casino gaming rather than the gambling side.
Slotocash Online Casino Promotions
This casino runs many unique promotions with deposit bonuses and free spins. They run promotions specifically for players who like to play table games rather than slots. The casino has a large cashback promotion for players who prefer getting money back rather than playing with the terms and conditions that apply to deposit bonuses.
The casino runs a long list of small promotions for players who like to play keno and scratch cards. Let's take a quick look at the promotions carried by Slotocash and then we will talk about the big differences between online casino promotions and land based casino promotions.
Welcome Package
Slotocash has a giant Welcome Package with high percentage bonuses and free spins as well! Here, quickly are the details. Pay attention to the massive bonus percentages!
First deposit: 200% bonus for up to $2000 and 100 free spins on Voodoo Magic.
Second deposit: 200% bonus up to $2000 and 50 free spins on Witch's Brew.
Third deposit: 100% bonus for up to $1000 and 50 free spins on Bubble Bubble.
Fourth deposit: 100% bonus for up to $1000 and 50 free spins on Bubble Bubble 2.
Fifth deposit: 177% bonus for up to $1777 and 50 free spins on Voodoo Magic.
The bonuses in the Welcome Package at Slotocash are among the highest in all online casinos and far more than any bonus a land-based casino might offer! But Slotocash goes a step further. Here is a quick list of other Slotocash promotions:
Bonuses for table games including blackjack, rummy, Pai-Gow Poker, three card poker, video poker, and others.
At this writing, the casino has 20 different daily bonuses with free spins and various bonus percentages.
Three deposit bonuses for progressive jackpot games.
A Cashback program that can return as much as 35% of every deposit.
Comp points, which is a standard promotion at both online casinos and land based casinos. We will talk a little about the differences in just a bit.
The SlotoBlog and Articles
This is technically not a promotion but we would like to know which land-based casino invests as much time and effort in talking about gaming! Slotocash has a magazine that comes out every three months plus many blog entries and articles. Gamers can learn quite a lot from reading the articles published by Slotocash!
How Do Land-Based Casinos Promote Themselves?
For land-based casinos, the key is turnover. That means that the casino knows that a gamer will stay about two or three days and then may never come back. If a gamer lives in the city where the casino is located, they might come back fairly often but the convenience of online casinos cannot be denied.
The convenience of online casinos is so great that many top land-based casinos now offer a mobile platform similar to the mobile platforms that online casinos have perfected and turned into the default method of gaming for millions of people!
The key for online casinos is repeat gaming. Thus, bonuses work infinitely better at online casinos than at land-based casinos.
Land-based casinos promote themselves based on their atmosphere. One casino will have décor from ancient Rome and another will have a different motif in its décor. But both rely on giving players a sense that they are doing something special by coming to the casino!
Online casinos understand that coming to an online casino for 30 minutes of gaming is just one of many activities gamers might indulge in of an evening, a week, or a month. Land-based casinos don't have a week or a month to promote themselves to gamers.
Free Alcohol and Food
These are two of the top promotions at land-based casinos! Free alcohol causes gamers to make poor decisions and free food costs the casino literally pennies. After all, most gamers go to the buffet with wide eyes but they have likely had a few drinks and simply can't eat all that much.
So, the regular promotions at online casinos, involving deposit bonuses and free spins cost the casinos far more than the free alcohol and free food land-based casinos can offer.
It is also ironic that online casinos discourage exactly what land-based casinos encourage, namely, drinking alcohol while playing casino games!
Comp Points
Land-based casinos do offer comp points. The way these promotions work at land-based casinos is the same as the way they work at online casinos. The difference is that land-based casino players often accumulate many comp points that they cannot redeem because they never return to that casino! This rarely happens at any good online casino since gamers can play every day for a short period of time and grow their comp points over time.
Then they can redeem them!
In addition, the comp points at land-based casinos are collected on the player's card. Players at land-based casinos have to ask for the card and not lose it, forget to use it, or forget to bring it with them the next time they go to that casino if they do so at all.
At an online casino such as Slotocash, every player is automatically entered into the comp points promotion and the points collect online so there is no card to remember or to lose! And since online gamers can play a lot more often than land-based players can play, they can accumulate more comp points!
Land-Based Casinos are Limited by Space
Because land-based casinos are limited by their walls, they have to choose between another slot machine or another blackjack table. This is a simplification, of course, and it isn't exactly a difference in promotions per se but land-based casinos cannot promote their classic games since so many games have to removed to make room for the new games.
Land-based casinos cannot promote their many different forms of video poker or blackjack since space allows for only so much and no more! Thus, land-based casinos have to promote their artificiality! Online casinos can promote their ability to help gamers relax and unwind, to play as in PLAY, and to have fun!
Slots Play Casinos Promotes Online and Land-Based Gaming
We do promote some land-based casinos since we understand the appeal they have to many gamers. The main thrust of our reviews is towards online gaming. We invite all gamers to come to Slots Play Casinos often to read the latest reviews and catch up on all the casino news!