There is an interesting conversation going around that discusses the value of casino games as entertaining pastimes in the light of the opening up of sports betting in the United States, the rise of online casinos, and the parallel rise of Integrated Resorts. At Slots Play Casinos, we report primarily on the news that affects online gaming but we realize that online and land based gaming are often intertwined.
As we will make clear, all of these newsworthy areas of the gambling business are intertwined and that the whole is far greater than the sum of its parts.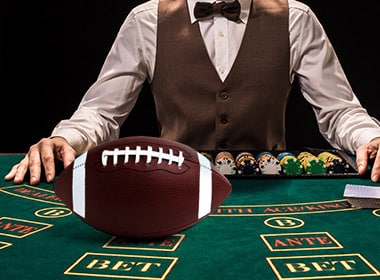 Ongoing Conversation
We have had comparisons between online gambling and land based casinos for at least twenty years. The change here is that both land based casinos and online casinos have changed dramatically in the past twenty years. For example, when online gaming began, the casino operators did not fully understand the importance of casino bonuses. That was because the model they were most familiar with was land based gaming.
Added to the mix is sports betting which can be done either online or at land based casinos and other venues. Sports betting is a massive political issue because it is seen as both a huge potential source of funds for governments and as another worrisome additional area of legal gambling which could spark a big wave of problem gambling.
Integrated Resorts
In this concept, the land based casino becomes a sideshow while the conference center, luxury hotel; spa, water park, shopping area, theaters, and restaurant court are at the figurative center of all the attractions at the resort.
An Integrated Resort is an attempt to soften the allure of the casino, while increasing the allure of all the other attractions, and still to have the casino generate huge influxes of resources to the government.
In the context of gambling and using gambling as a way to create government funds where they didn't exist before, the Integrated Resort concept is a kind of bait and switch: people come to the resort for the spa or the waterpark and end up spending some time and money at the casino even though it wasn't the casino itself that drew them there.
Online Casinos
In many jurisdictions, online casinos are more regulated than even land based casinos. They may be more regulated than any other form of legal gambling. The reason ostensibly is that it is harder to collect taxes on the profits of online casinos than on the profits at land based casinos.
In fact, most taxes are taken on gross revenues rather than on net revenues. That's because it's too hard to keep track of revenues at online casinos in general.
Online casinos have evolved in numerous ways since they began around 1995.
Graphics
There has been so much improvement in the graphics available at online casinos that it has spawned a generation of gamers that only knows the modern graphics and never lived through the early days when graphics were more linear, grainier, and generally less aesthetic.
Improvements in graphics have generated many other changes in online casinos.
Instant Play
This is the modern term for what used to be called flash. The reason for the name change is that technological improvements have rendered instant play far more attractive than flash was.
With instant play, you can play right on your internet server. You don't have to download the casino to your computer. That means that players can play at several, even many, online casinos at the same time. That makes online casino gaming far more accessible and attractive than it was before the technology improved to such an extent.
With the availability of so many online casinos, there is both political pressure from the public to make online gaming legal and there is political pressure from within the political community to legalize and regulate online casinos as a source of tax revenue.
Mobile
Technological improvements also have brought about a great wave of growth in mobile gaming. Today, mobile casino gaming is more popular than desktop gaming. Mobile has always been more convenient but until the latest technology came online it wasn't nearly as comfortable. Now mobile is both convenient and comfortable.
Challenge to Land Based Casinos
It would seem that land based casinos would lose out dramatically to online casinos considering the improvements that have taken place in the online casino market. Yet, land based casinos are thriving as well. The Integrated Resort idea is one reason that land based casino gaming is experiencing its own Golden Age even as online casinos are also experiencing a Golden Age.
A second reason for the increased interest in land based casino gaming is simply that gaming in one type of venue—here meaning at an online casino—makes gambling at a very different venue—a land based casino—all the more attractive.
In short, a player who never went to a land based casino may do so now after having become enamored by casino gambling at an online casino.
Sports Betting
Here is where the conversation gets around to sports betting which, in its legal form, is in an infancy of sorts after having been sent underground to illegal channels since the Professional and Amateur Sports Protection Act (PASPA) became law in 1992.
The details of how PASPA was overturned by the United States Supreme Court are available in many sites on the internet. Here we are interested in the effect of newly legal sports betting on the land based and online gambling markets.
Land Based Casinos
In some places, sports betting is legal through a land based casino. This brings people who never played casino games, whether at a land based or at an online casino, to a land based casino in order to place legal sports bets.
Once a player is present at a land based casino, it is just a very small step to get them to sit down at the blackjack table, take a turn at video poker, or play any of the pure games of chance like slots, roulette, craps and so on.
So legal sports betting at land based casinos has helped and will continue to help the bottom lines of land based casinos. Similarly, all the attractions at an Integrated Resort will enhance the casino's bottom line.
Online Sports Betting
There is a growing clamor for legal sports betting through an online sportsbook. If legal sports betting does not go online, it is thought that many people will continue to bet on sports illegally.
Furthermore, there is a growing body of sentiment that legal online sports betting will lead to more legal online casino gaming which will lead to more land based casino gaming.
Politics and Behavior
There will always be opposition to legal gambling on the basis of the problems it creates. Still, the public wants legal ways to gamble. Responsible gambling must be encouraged and taught. But the need of governments to raise money through gambling will not let up until politicians decide to reduce the size of governments. The history of the last few centuries at least indicates that this is a very unlikely possibility.
The question being discussed every day and reported on every day is how best to organize and regulate gambling.