The latest news cycle brings the blockbuster news that James Jones, CEO of Chartbuster Games, and a man with over twenty years of experience in internet entertainment and media including the online casino industry has joined ZeroEdge as a consultant.
The reason this is seen in the industry as blockbuster news is because of who James Jones is, how it places Chartbuster Games in an enviable position, and the gravitas it immediately gives to ZeroEdge.
James Jones
Mr. Jones brings a unique set of skills to the development of ZeroEdge. He has been involved with digital industries since the very earliest days of the internet when no one was sure what the internet was, what it should be called, and what the long-range future of the internet might be.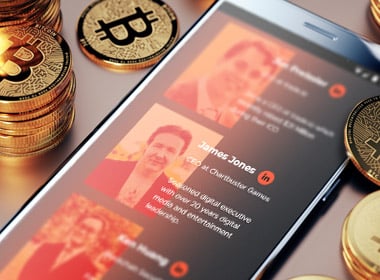 Mr. Jones thus started in the internet when it was called the worldwide web or just the web. He started when email was called electronic mail. Today, the term "mail" almost always means email and snail mail is the term of preference for government mail service. People at the time were torn between not wanting to be like the CEO of IBM who famously could not see a future for computers nor did they want to be the fools who rushed into a fad that would collapse as soon as it had started as happened with telex and electric typewriters.
Mr. Jones was also at the forefront in the development of iconic brands such as Transformers and Lord of the Rings. His vast background in the entertainment industry, and in niches that complement gaming well, coupled with his internet experience and blended in with his business experience makes him a perfect choice to consult and advise the entrepreneurs who want to take ZeroEdge where no casino has gone before.
Mr. Jones also has wide experience with different entertainment platforms and gaming. ZeroEdge, within a closed casino setting and with a monopoly on the currency used, can best be seen as an entertainment platform. Mr. Jones' experience in this area of the digital environment includes Xbox, Nintendo, Playstation, Gameboy and mobile. Mr. Jones is currently CEO of Chartbuster Games which is a publisher of games for the mobile platform. Anyone who remembers the enormous growing pains that online desktop casinos went through when they tried to offer an mobile gaming experience can readily understand the wealth of knowledge Mr. Jones will bring to this position at ZeroEdge.
ZeroEdge
This is a truly revolutionary concept in casino gaming; ZeroEdge purports to be the first casino with absolutely no house edge. They claim that they can do it by working entirely with their own cryptocurrency, called Zerocoin. The idea is that Zerocoin will grow in value so by having players' deposits converted from their country's government currency into Zerocoin, the casino is actually investing in the cryptocurrency and will profit – they believe handsomely – by the rise in its value.
The concept is so startling that it is absolutely certain to revolutionize both casino gaming and the world of investment should the theory prove workable in the real world. There are naturally many skeptics and questions to be answered. One reason ZeroEdge tapped into James Jones as a consultant is because he is uniquely qualified to answer some of the questions challenging ZeroEdge.
The way Zerocoin rises in value is that it is available only to gamers at ZeroEdge. In effect, ZeroEdge would offer casino games with no house edge but they would retain a monopoly on the currency gamers would use to play. At any other casino, and in any other currency, the casino cannot be construed as having a monopoly on the currency. Even the government that issues the currency cannot be said to have a monopoly on the currency. If gamers flock to play online games with no house edge, it would create more demand for the casino's unique currency, thus raising its value.
ZeroEdge has already done substantial market surveys and analyses. They claim that well over 99% of casino players would prefer to play at a casino with no house edge. It was these results that spurred the investors in ZeroEdge to go ahead with the project.
Chartbuster Games
As CEO of this company, Mr. Jones brings a range of managerial skills to the ZeroEdge challenge. Chartbuster Games also provides acquisition expertise. They see getting new players to be an art and a science rather than a sort of black magic as so many failed acquisition executives might say.
Chartbuster Games has expertise in game monetization, raising money for investment and expansion, business data farming and analysis, retention of player loyalty, community outreach and much more.
ZeroEdge: An Idea in Need of Know-how
All of these areas will be vitally important to ZeroEdge as it grows and seeks to raise money, monetize its product, analyze the data it collects, to keep players happy, and to have the best possible reputation in the community – not just the online casino community but the community at large.
With the possibility that sports betting will soon be legal in any US state that wants to authorize and regulate it, and the likelihood that many states will set up online casino gaming within their jurisdictions, ZeroEdge is situated at an industry crossroads. Everything points to a bright future for ZeroEdge. It is possible that the ZeroEdge concept will take state legislatures by storm and revolutionize online gaming in the US.