The recent article we wrote about SlotoCash Casino focused on their Lifestyle pages. Today we we'll continue our look back at SlotoCash Casino to talk about their promotions.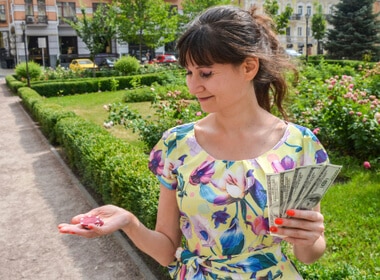 Don't All Online Casinos Run a Number of Promotions?
Yes, they do!
This is one of the big contrasts between online casinos and land-based casinos. At a land-based casino, they might have a package that includes air fare, hotel accommodations, and possibly a few extras. But they also require that the players who take these deals commit to a given amount of money to gamble with.
Online casinos such as SlotoCash run different types of promotions. They run deposit bonuses, free spins, comp points, and a cash back program. Land-based casinos have a very hard time offering deposit bonuses for a simple reason: the wagering requirement.
What is the Wagering Requirement?
This is a factor of a bonus that the player has to bet before he or she can withdraw any winnings. Some online casinos have very fair wagering requirements such as 30x and some do require as much as 60x before the player can make a withdrawal.
The key to understand here is that an online casino gamer has all the time in the world to finish the wagering requirement while players at a land-based casino may have two or three days to do so. Land-based casinos know that their players will not complete the wagering requirement in such a short period of time so they don't offer bonuses.
Play with the Casino's Money
This is advice that many blogs give to online casino gamers. Take a deposit bonus and play with the casino's money! You might budget some of that money toward a progressive jackpot slot and get both lucky and suddenly wealthy.
You might budget some of the money toward playing games of skill such as video poker and blackjack where the return to player rate is about 99.5%!
Let's take a closer look at the promotions offered by SlotoCash Casino.
Welcome to SlotoCash
This is one casino that knows how to save welcome! The Welcome Package is actually five deposit bonuses with free spins included. Here are the details:
The first deposit bonus is for 200% up to $2000 with 100 free spins on Cleopatra's Gold.
Next we have another 200% bonus for up to $2000 plus 50 free spins on Wild Fire 7's.
Next is a 100% bonus for up to $1000 and 50 free spins on Bubble Bubble.
Then the casino offers a 100% bonus for up to $1000 and 50 free spins on Bubble Bubble 2.
Finally, the last bonus in the Welcome Package is a 177% bonus for up to $1777.
The wagering requirement for all of the bonuses in the Welcome Package is only 25x for players of slots and keno! As a result of so much casino money and free spins plus the low wagering requirement, SlotoCash gamers win a substantial amount of money with the Welcome Package bonuses!
What Stands out from the Welcome Package?
First, the casino offers the highest bonus rate at the beginning rather than at the end as many online casinos do. Second, the casino offers fully 300 free spins in popular slots. Third, SlotoCash offers up to $7777 in bonuses for new players but most new gamers at the casino take some but not all of the bonus money.
SlotoCash is Always Looking at the Bright Side of Life!
At this time, in celebration of February the Valentine's Day month, the casino is running a Modern Cupid Luck and Love promotion with $100 in a no deposit bonus plus 99 free spins.
Daily Promotions
There are so many promotions that run daily that we can't list them all. Go to SlotoCash casino and click on promotions. Then click on Daily Promotions and a magnificent world of bonus and free spin promotions will open up for you!
Kudos to SlotoCash for their 2.5-minute video that explains in simple language all of the various promotion types they offer.
The casino offers special bonuses to gamers who prefer playing table games over slots.
Finally, we get to comp points.
Even Land-based Casinos Offer Comp Points!
Comp points are the easiest promotion for any casino to offer. Basically, they are points that players accumulate as they play. Then, when they have accumulated enough comp points, the player can convert them into casino credits or chips.
Why, then are comp points better at an online casino than at a land-based casino?
To put it simply, online casinos have computer software that keeps track of every gamer, his or her wins and losses, their wagering requirements, and their comp points. At a land-based casino, all of this information is stored on your players' card. Needless to say, you have to remember to bring the card with you when you go back to the casino where you accumulated the comp points—if you go back to that casino at all!
A lot of land-based casino fans try out different casinos on different gaming trips. They never have enough comp points to convert them into chips!
Where Did I Put that Card?
In this day of mask requirements, how many of us leave the house without a mask… again! How many of us take a mask and forget to put it on before we leave the car… again! So, how easy is it to forget to bring that ol' players' card or to remember where we put it so that we would remember where it was when we set out to the casino… again?
A Final Word about SlotoCash Casino
The people who run SlotoCash have a fun streak that knows no bounds. They see gaming as entertainment to the nth degree! They see the casino as a kind of playground for adults where we can indulge our desire to make bets on games!
SlotoCash Casino runs so many top-notch promotions as a way of helping gamers have more fun playing the casino's games!
The number of daily promotions is amazing as is the Welcome Package. SlotoCash is a casino that fully understands the value of free spins from the gamers' point of view! We cannot recommend SlotoCash Casino more highly!
Slots Play Casinos Informs and Reports
Here at Slots Play Casinos we do our best to stay ahead of the curve in all things related to casino gaming. We primarily espouse the value of online casinos and we do cover land-based gaming as well.
COME to SLOTS PLAY CASINOS OFTEN!