RealTime Gaming has just added another amazing slot to its catalogue of Mexican culture themed slots Mariachi 5 proved to be so popular that the game provider has just come out with Diamond Fiesta. This slot is a bit hard to describe as it features skeletons and skulls amid the diamonds and chilies!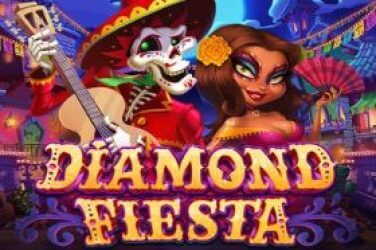 Diamonds and Hot Peppers, Oh My
The diamonds and chilies are easy to figure out but what are skulls and skeletons doing in what the game provider calls a celebratory slot? Well, the Mexican people, like people in many other cultures, have a way of celebrating the memory of their deceased ancestors. It is an amazing national holiday and feast and strangely enough also features ghoulish masks and decorations of skulls.
If we didn't know that the skeletons and skulls are symbolic of the great regard the Mexican people have for their deceased loved ones, we might be taken aback, even appalled by this type of symbolism. But Diamond Fiesta is a great slot! It has so many features that draw in slots players and make these players long-time fans of the game!
Four Top Casinos Have Special Promotions for Diamond Fiesta
Here are the four casinos we recommend as your go to places to play Diamond Fiesta:
Each casino has a slightly different promotion for the early weeks of this much ballyhooed new slot! So follow the links and get in on the fun!
Diamond Fiesta is a Low Volatility Slot with a Lot of Winning Ways
It is safe to say that Diamond Fiesta may have the most individual ways for gamers to win of any slot that RealTime Gaming has produced up to this time. The return to player rate is about 97% but that only tells part of the story.
Remember, the return to player rate of a game with a million dollar progressive jackpot might also be about 97% but the volatility in these slots may also be quite high. In Diamond Fiesta, the return to player rate is high and reflects the low volatility of the slot. That means that gamers will enjoy all of the winning spins they get even as the individual wins will generally be quite a bit less than a million dollars!
Four Random Jackpots
A random jackpot means that you can win it at any time, even on a spin that has no other winners! A random jackpot means that you can win it without needing to string together a few identical icons from left to right.
There are four random jackpots in Diamond Fiesta. The mini and minor jackpots can and will come up at random in the base game. The major and grand jackpots come up in the 8 x 4 grid.
Did You Say an 8 x 4 Grid?  How Can I Get One of Those?
Diamond Fiesta has an expanding reels feature. First, we need to get to the Jackpot Diamond Feature. This arrives at the exact same moment that six diamonds appear anywhere on the reels. This triggers three free spins.
Some cynics might say that three free spins is a bah humbug free spins bonus round but hold your horses! If you get a diamond in any of the corners, you retrigger the free spins! That means that you can retrigger the spins four times and when you fill in the corners with diamonds, the reels expand. They first go from five to six reels, then to four rows, and then to seven and eight reels.
And that my friends is how you get an 8 x 4 grid and get set for the major and grand random jackpots to find you! Check it out below:
The Jackpot Diamond Feature
We started talking about this feature in connection with the random jackpots but there us a lot more to the feature than a random jackpot for a lot of money! First, you need those six diamond symbols. The diamond symbols stay put on the reels and no other icons apply during these free spins.
Every time a diamond symbol appears, it sticks to the reel in exactly that place. The spins get retriggered when a diamond lands on a corner. As George Harrison said, All Things Must Pass and the free spins eventually end even though they can be retriggered again and again. When the dust settles and the free spins end, the diamonds each reveal a prize selected just for you!
We have only just begun to describe all the ways you can win in Diamond Fiesta!
Embrace the Skull
The skull in Diamond Fiesta acts like a regular scatter symbol. Three of these beauties get you to another free spins bonus round. In this round, you get six free spins to start. Extra wild and scatter symbols are added to the reels so you can advance and win more easily. You can retrigger three free spins with three more scatters.
Finally, you can also trigger the Jackpot Diamond feature during this free spins round!
Celebrating Celebrations
RealTime Gaming is certainly in a celebratory mood. Their most recent new games all seem to be celebrating something. Rudolph Awakens was a happy encounter with Rudolph and celebrated the Christmas season.
Halloween Treasures is another happy slot; Magic Mushroom takes you deep into an enchanted and enchanting forest; 5 Wishes gives you a few wishes along with a trip on Aladdin's magic carpet; the mad Dr Winmore does everything he can to help you… win more; Pulsar celebrates the vast horizon of outer space and makes us all hope for the day of grand interstellar travel; and, although it is not a most recent slot, 5 Mariachis also recognizes the amazing range of Mexican culture!
So, get with the program! Trigger and retrigger the many ways that you can win with Diamond Fiesta and take advantage of the different casinos' promotions!