There is a big difference between the highest paying progressive slots and the best progressive slots! So, let us here at Slots Play Casinos shed some light on this progressively intriguing subject.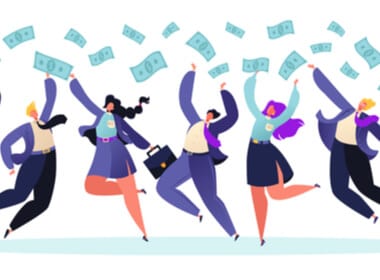 Today's Highest Paying Progressive May not be Tomorrow's!
Winning a progressive slot is pretty much a matter of having very good luck. If someone wins a big progressive jackpot one day, there is no telling when the next winning combination will show up.
It could be later today—very unlikely! It could be tomorrow—also very unlikely. It could be a few months down the road—much more likely!  But it really could hit at an y time since the casino has no control over the outcome of the next spin or of the next million spins!
The random number generator determines every outcome at online casinos including the outcome of every spin on a progressive jackpot game!
What are the Highest Paying Progressive Slots at SPC Casinos?
Many of our recommended casinos use the online games provided by Real Time Gaming. RTG has several progressive slots and a few progressive jackpots that are in other games. We will talk about those other games when we talk about the "best" progressive games.
That's not to say that the several progressive slots that are generally offered at online casinos featuring RTG games are not excellent games; they are! It's just that the highest paying progressives and the best progressives use different criteria.
Here are the top RTG progressive slots:
Aztec's Millions
Cleopatra's Gold
Jackpot Cleopatra's Gold
Megasaur
Jackpot Piñatas
Spirit of the Inca
Shopping Spree
Black Diamond Casino has many progressive slots from several providers. One thing you will notice at every online casino is that the progressive jackpots change all the time. A jackpot might have been worth $1,000,000 yesterday and suddenly today it's worth $2,000,000!
In contrast, Lincoln Casino has several progressive slots with very modest payouts for winning the jackpot. Liberty Slots Casino also has a few modest progressive jackpot slots.
We should explain how progressive jackpot slots work.
How Do Progressive Jackpot Slots Work?
There are basically two types of progressive jackpots. The more common one is a progressive within a slot or another game that the casino runs. These jackpots tend to be a lot smaller than the million dollar progressive jackpots that the game providers run.
In many slots, there are three or even four progressive jackpots. The mini might be for just a couple of thousand dollars and even the maxi might never hit six figures. Still, no one complains when they win one of these embedded progressive jackpots!
When a game provider operates a progressive jackpot, they take a few pennies off the top of every bet and put that money towards the jackpot. It takes a lot of pennies to go from six figures to seven figures or from one million to two million.
As far reaching as many online casinos are, the game providers, if they are in the top echelon of this growing field, have much broader reach. One casino has its set of gamers while the game provider has all of the gamers of all of the casinos that carry said provider's games.
Instant Play Gives Gamers a Lot of Flexibility
So, there are many casinos that run progressive jackpots run by the game provider. One of the many benefits of gaming at an online casino is that gamers can go from casino to casino easily by using the universal Instant Play platform.
Sure, in Las Vegas you can also go from casino to casino but the distances are not short and the days are very hot in the summer! At online casinos, the distance between casinos is zero and your house is comfortably warm in the winter and cool in the summer.
The Best Progressive Games Offer the Most Entertainment Value
Even though progressive slots might have a seven-figure jackpot doesn't mean that the game is the most fun to play! Online casino gaming should always be about entertainment. We always emphasize fun before getting rich quick.
We also point out that if you are playing a volatile progressive slot, you should expect to not win the big jackpot. You might win it but the chances are not great. This doesn't mean that you shouldn't play for the big payday but it does mean that the BEST progressive slot or other progressive game is the one you enjoy playing the most!
Caribbean Poker – Great Fun with a Progressive Bet
As we talk about entertainment value, we should talk about the three Caribbean Poker variations and the progressive jackpot they share. The Caribbean Poker variations are:
Caribbean Stud
Caribbean Draw
Caribbean Hold'em
In each variation, the player makes an ante bet and then the cards are dealt. You then have to decide if you want to stay in the hand or fold. There is a lot of subtle strategy in the Caribbean Poker games and there is also a side bet that gives you the chance to win a progressive jackpot.
Unlike most progressive jackpots, in the Caribbean Poker games, players share the jackpot across the three variations. As a result, more players win the jackpot than in most progressive slots.
It is also important to understand that you can play Caribbean Poker without making the side bet. A lot of players really enjoy playing Caribbean Poker without making the side bet for the progressive jackpot.
And there is another aspect to the progressive jackpot: a player can win part of the jackpot with a hand that is not good enough to win the full jackpot with. To win it all, you need a Royal Flush but players can win some of the jackpot with lesser hands!
There is one last thing we would like to point out about Caribbean Poker: it was developed in the Caribbean Islands and it is warm there at this time of the year!
What Conclusions Can We Reach about Progressive Jackpots?
The highest paying progressive jackpot game may not be the best progressive game for you.
As in all casino gaming, entertainment is key, well before getting rich by hitting a big jackpot.
Progressive jackpot slots may be volatile so many gamers benefit from playing these games in moderation.
There are also smaller progressive jackpots embedded in regular slots that are easier to win.
Caribbean Poker offers a shared progressive jackpot that has the added benefit of enabling players to win a part of the jackpot for a hand that is strong but not as strong as a Royal Flush.
Slots Play Casinos Covers Casino Gaming for You
SPC has reviews and helpful articles by the score. We add new informative articles every week so come to Slots Play Casino often for important discussions about casino gaming.