Slots Play Casinos loves holiday promotions! Some holiday promotions deserve a special round of applause from us. So we would like to salute Play Croco Casino for their spinning wheel promotion for the Halloween season.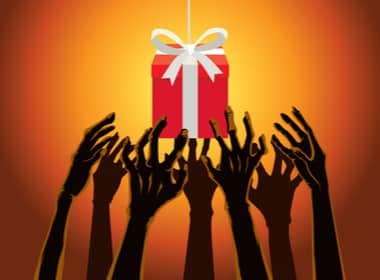 Why is This Wheel Different than All Other Wheels?
The wheel is not like a roulette wheel! It is not like the wheel Mr. Hampster runs on! It is not the Ferris wheel at the local amusement park. It not the "big wheel keep on turnin', Proud Mary keep on burnin' of the all-time favorite song!
The wheel is a bonus wheel that PlayCroco Casino calls the Halloween CrocoWheel. You get to spin the wheel as often as you can. The spinning alone is great Halloween fun in itself! Placed on the wheel are interesting symbols. Hidden behind the symbols are twelve unique bonus offers!
You can use each bonus offer once so you should set out on a merry journey to spin the wheel often hoping to get all twelve bonus offers!
The Spooky Swamp
The CrocoWheel "lives" in a very spooky swamp. When you spin the wheel, take a moment to look at all of the spooky Halloween symbols that reside in the swamp. There are ghosts, a dragon wearing sunglasses, thick underbrush, thick trees, strange lights in the background, and a snapping trapping mechanism.
We would not like to get caught in this spooky place overnight! But the wheel is a breath of vibrant color and great fun!
Here is a list of the 16 symbols on the CrocoWheel:
Witch's hat
Bubbling cauldron
Antidote flask
Jack O' Lantern
Diamond
Green disc
Purple flask
Orange flask
Firecracker about to explode
Treasure chest
Emerald
Hexagon
Eyeball
Pillar with sword
Gold coins
An unlit explosive
The symbols certainly send chills up and down our spines! Will they do the same for you? What will send chills up and down your spine are the great bonus offers hidden behind the eerie symbols! Free spins and cash bonuses abound!
Have a Blood-curdling Good Time!
PlayCroco Casino is one of our recommended casinos for good reason. It is a great casino to spend time having fun at! This Halloween season, we heartily suggest spending some foolishly ghoulishly time gaming at PlayCroco and spin the wheel in the swamp often. Then take as many bonus offers as you can and multiply your holiday fun!