Here's a truly good news item: A firefighter from Long Island, Tommy Maher, was able to use some of the money he won at a local casino plus money a friend of his raised through GoFundMe to fund a memorial to the 58 victims of the terrorist shooting in Las Vegas last October 1.

Fireman Maher's plan was to make leather bracelets, one for each of the victims, travel to the victim's hometowns and donate some money to local charities while doing random acts of kindness in the victim's name.
Maher said, "My hope was that it would inspire people to do the same."
He made simple bracelets with the name of one of the victims on each. He gave each bracelet to someone in each town who Maher hoped would likewise do a random act of kindness in the victim's name and pass the bracelet on. In this way, each victim could be remembered as someone who inspired and continues to inspire total strangers to perform random acts of generosity.
The bracelets symbolize the theme of Maher's crusade which was "Pay it Forward". He had the slogan painted on his sleek white van in which he travelled from town to town.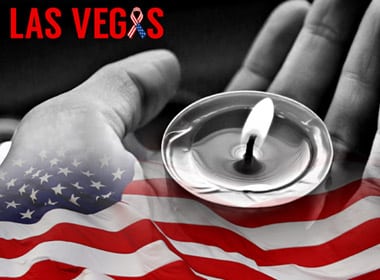 Raising Money
Maher and his friend raised $7200 from GoFundMe. Then, as he was starting out on his long journey, he stopped at a local casino, played a single penny on a slot machine, and won $2400!
Terrible Tragedy
The mass shooting took place on October 1 last year. Stephen Paddock used high-powered rifles to kill 58 people and wound hundreds as he shot at them from an upper-story window in the Mandalay Bay Hotel while the victims were enjoying an outdoor country music concert. Tommy Maher felt compelled to do "something" even from distant Long Island, to commemorate the innocent people who had been so senselessly shot down in cold blood.
A friend of Maher's had escaped uninjured despite being near a man who was killed and another who was wounded. The proximity of his friend to the mayhem of that night in Las Vegas inspired Maher to do more than "just donate some money".
A Different Kind of Road Trip
The trip was planned to take 18 days and cover 9500 miles. Even with the $7200 they had raised for the trip, Maher's wife realized that he would still be short. She was more concerned about the possible shortfall of money than he was. Then luck shined brightly for Tommy Maher. He was about to leave the casino when he sat down at the penny slot and quickly won the extra money he would need to finish his mission in the red.
Maher began the trip with his daughter Kelli and a friend, Aline McEntee
Maher didn't have any specific plan for how he would memorialize the victims in their hometowns so he played it by ear everywhere. In one town, he put quarters in envelopes, taped them to machines in a laundromat, and wrote on the envelopes that in honor of Bill Wolfe Jr. who had been killed they were invited to enjoy a free wash.
At another stop, Maher brought flowers to a children's' hospital and took some staff members to lunch.
Memorializing a Fellow Firefighter's Wife
An especially poignant moment occurred in Cedar City, Utah when Maher went to honor Heather Alvarado, a 35-year old mother of three and wife of local fireman Albert Alvarado. In its own way of honoring the wife of a fellow firefighter and also, by inference, also honoring Maher for his great gestures of kindness, the Cedar City Fire Department issued the following statement: "Heather always saw the good in others. She spent her whole life serving others in her family and community."
Facebook Fame
Maher detailed his journey in real time on Facebook and as it became well-known he was invited to speak to support groups that had been formed to help families of victims. Maher had hoped his small gestures might inspire others to do similar projects helping other cope with tragedies, not just the Las Vegas tragedy.
Since he finished his trip, Maher has heard that his actions did indeed inspire some to get involved helping others.
A Serial Helper
This was not the first time Tommy Maher got involved simply as a concerned citizen helping people in need. After Hurricane Sandy, Maher collected food in his van and distributed it to people who had no other way to get food. After Hurricane Harvey, Maher spent two weeks in the Houston area helping victims.
After visiting every victim's hometown in the contiguous United States, Maher was faced with the problem of getting to and from Alaska to complete the mission.
An employee of Alaska Air gave him a flight voucher to get to Alaska and an employee of Virgin Air gave him a Buddy Pass so he could get back from Alaska.
Passing on the Bracelet
Maher says that even if you aren't directly in possession of one of the bracelets, he hopes they can inspire everyone to emulate Heather Alvarado by seeing the good in everyone and to help others as often as possible.