There is a report that a new cryptocurrency is about to be established to serve high stakes gambling to the jet set high roller gambling market. The cryptocurrency being considered will be introduced in Macau and other international casino locations where true high rollers travel to gamble. There is also a new casino called ZeroEdge that uses its own cryptocurrency, called ZeroCoin. The idea behind ZeroEdge is to allow gamers to play online casino games with no house edge. The casino profits from the rise in the value of the currency, as opposed to the losses of the players.
Cryptocurrencies are Easier to Deal With
The idea behind the new cryptocurrency to be used to facilitate high roller gambling is that using regular government currency for million dollar gambling is cumbersome. Nowadays, a fee of 5-7% is charged high rollers who, despite being tremendously rich, don't like to spend money unnecessarily and they feel paying a fee to be able to bet millions of dollars is an unnecessary expense.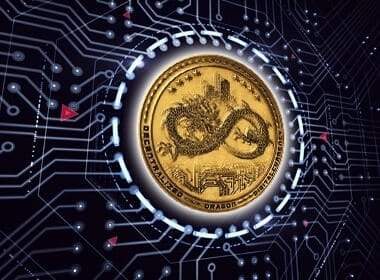 The report mentioned Dragon Inc. as a company that is looking to use blockchain technology to create the cryptocurrency that will replace government money in high roller, high stakes gambling venues. Before travelling to gamble, a high roller would simply buy sufficient cryptocurrency to cover his or her anticipated gambling adventure. Since cryptocurrencies are all digital, there would be no actual cash money to deal with.
At the gambling location that would use Dragon Inc.'s cryptocurrency, the high roller would convert the cryptocurrency into Dragon Global Chips. They would then gamble with the chips. When they finish their gambling holiday, they would reconvert the chips into the cryptocurrency and back home could convert the cryptocurrency back into the local government currency.
Dragon Inc. believes that the costs to the high roller gambler would fall to 1% or less.
Blockchain Has Identifiable Advantages
Blockchain technology is considered more secure and also more traceable making any currency based on the technology easier for governments to monitor as they seek to prevent money laundering, tax evasion, and black market economic activity.
Starting in East Asia
Dragon Inc. is looking to the gambling scene in Macau first but has its sights set on all high roller land based casinos throughout the world. The company is negotiating with the 7 Luck Casino in South Korea and with several big international online casinos.
The Asian trend to embrace the concept of Integrated Resorts fits in perfectly with the attempt to use blockchain technology to aid high roller gambling. An Integrated Resort would attract high rollers for its full gamut of attractions from shows to restaurants.
Situation in the United States
Online gambling in the United States has been in a state of confusion since 2006 when the US Congress passed an addition to a law on a completely different subject which addition is known as the Unlawful Internet Gambling Enforcement Act (UIEGA). It makes it difficult to impossible for financial institutions, primarily banks and credit card companies, to transfer money from customer accounts to online casinos.
Cryptocurrencies may be able to bypass the law thus enabling online gaming in the US without the need to change existing law.
Land based casinos were not included in the ban. That's because land based casinos were already highly regulated and provided much needed tax revenue to many jurisdictions in the US. The members of Congress who voted for the law were motivated by wanting to keep tax revenues generated at land based casinos flowing. And also from pressure from casino interests that knew that online casino gaming was (and still is) the overwhelming wave of the future for all gamers except high rollers. High rollers, generally, prefer gambling in luxurious settings where they get pampered from accommodations to food and drink, shows, and every other attraction available at land based casinos.
Popularity of Online Gambling
The average casino gamer, who is far indeed from high roller status, prefers gaming at home, at an online casino, without all the extra costs of travelling to a land based casino. The land based casinos have come to realize that wherever casino gaming is fully legalized, average gamblers will opt for the frequent visits to their favorite online casino and infrequent trips to land based casinos.
Most gamblers don't need cryptocurrencies to gamble online. For that reason Dragon Inc. is targeting high roller land based casinos. The company feels, however, that there is a market for cryptocurrencies to facilitate online casino gaming as well. Many online casinos now accept bitcoin and other cryptocurrencies. However, the use of cryptocurrencies in online casino gaming and in many other online financial activities is still in its infancy.
Uncertainty Still Prevails
Although people realize that government money has been horribly abused by the governments that create them, it is still uncertain how or even if cryptocurrencies will replace or augment government currencies.
Dragon Inc. co-founder, Paul Moynan, said that he sees cryptocurrencies as having a significant role to play in a myriad of online transactions. Essentially, since cryptocurrencies can be broken down into very small parts but all transactions are transparent, it could become the preferred form of coinage for many simple purchases like show tickets and even alcoholic drinks on cruises.
He feels that the entertainment industry on the whole is a perfect place to gain massive cryptocurrency popularity.
What Mr. Moynan didn't say is that if there is one cryptocurrency in the works for gambling and for entertainment and for any and all other purchases, there may actually be ten or more that have not yet made a splash in the news.
There are already close to 100 cryptocurrencies. If governments get to the point where they feel that their currencies are under excessive threat from cryptocurrencies, the governments may resort to drastic even Draconian measures to suppress the use of cryptocurrencies.
The gaming market internationally is worth many billions of dollars annually and governments will likely choose to allow any form of gambling that is easily monitored so the governments realize the highest level of tax revenue. This may spell a good future for cryptocurrencies or it may spell dangerous times ahead for them.