We have spoken about Springbok Casino in the past. There is so much to like about this casino. Springbok Casino has a full selection of great casino games from SpinLogic. The casino has safe and secure banking, great customer service, many promotions, Instant Play, mobile gaming, and much more.
Still, as excellent as the casino is in all classically casino gaming aspects, we have always liked that Springbok sees itself in a much more rounded manner.
So, today we would like to talk about how Springbok connects with gamers in different ways other than the ones we mentioned above.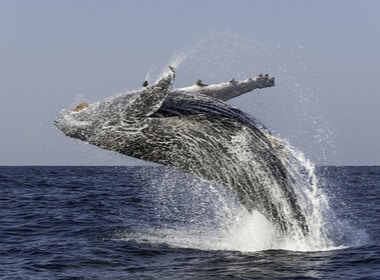 Travelling? Try South Africa!
As much as Springbok sees itself as THE top online casino for South Africa, they have gamers from all over the world.  So, as a "representative" of South Africa, Springbok has a section on travel the country! You can find it at the bottom of the landing page as well as the other sections we will talk about today.
In the travel section, the casino talks about different animals you can see on your visit to South Africa. They talk about the Big Five which are the animals people on safari see: the African Leopard, African Elephant, African Lion, Cape Buffalo, and the giant Rhinoceros.
If you have never seen these animals from close up, you have no idea how enormous, frightening, powerful, and magnificent they are. Of course, on safari you are quite safe but the animals are awesome to an exponential degree!
The Big Five are Land Animals.  What about the Sea?
Yes, of course!
The travel to South Africa section also has articles on sharks, whales, and dolphins. They talk about "animal friendships" as a goal even for people whose experience with animals extends to dogs and cats and the occasional farm animal!
South Africa Gives France, Napa Valley, and All Points a Run for Their Vineyards
South Africa also produces excellent wine and Springbok would like you to know about it! They discuss in separate articles the wines of different wine grape growing regions.
To say that Springbok is proud of South Africa and wants everyone to know it is a huge understatement!
Springbok Wants Gamers to Succeed at the Casino
Of course, as an online casino, Springbok is a business that needs profits to stay in business. But Springbok wants their gamers to enjoy gaming so the casino has a full section of How To Play: blackjack, table games, roulette, video poker, slots, and baccarat.
Now, roulette, blackjack, and baccarat are also table games! So, why a section on table games? Because Springbok also offers Red Dog, Pai Gow Poker, Caribbean Poker, Three Card Poker, Rummy, and War!
Finally, as if that weren't enough, the casino has a full section on Gambling Tips. We will list a few titles from the first five pages of this very large section of articles and tips. As the casino adds to its Gambling Tips section, these articles might be presented on a later page but for now…
On Page 1: Find Video Poker Facts.
On Page 2: How to Avoid Busting in Blackjack.
On Page 3: Which Video Poker is Better; Jacks or Better or All American Video Poker?
On Page 4: Four Must-know Facts about Online Video Poker.
On Page 5: All about the Insurance Bet in Blackjack
We could go on. Springbok has a couple of hundred good articles in the Gambling Tips section.
So Springbok is Ready to Rest on their Laurels, Right?
Actually, not right by a large measure!
Springbok also has an articles section, a press releases section, a blog, a section on tournaments, and a section of videos. Let's take a quick look at these!
The Press Releases section is part self-promotion, part rah rah invitations to play new games, and part just humorous stories related to the casino. At this moment, the casino has over 200 press releases!
The video section has videos on how to play some games and on South African wildlife.
The tournaments section explains how tournaments work, especially free roll tournaments, and also has a list of all of the casino's present tournaments which at this time number fully 33 tournaments.
The blog section is primarily about big winners at springbok Casino! There are a couple of hundred blog entries o some are about other subjects such as new games, special holidays that no other country celebrates (National Rhino Day) and a lot more.
The articles section deserves a much fuller presentation so….
What is in the Articles Section?
This section has hundreds of articles about subjects not at all related directly to online casino gaming! Springbok simply want you to know that these subjects are out there and you can do your own research to find the answers that suit you the best!
We will list on article from each of the first five pages.
From Page 1: Decentralized Casino vs an Online Casino. We didn't know what a decentralized casino was either until we happened onto this article!
From Page 2: How Playing Online Casino Games Boosts Brain Power.
From Page 3: Moore's law and Online Casinos.
From Page 4: Human Longevity and Online Slots.
From Page 5: How Playing at an Online Casino Can Improve One's Entrepreneurial Skills.
The articles section also has articles on how to get healthy, how to stay healthy, what exercises are best for you, and much, much more!
Slots Play Casinos has Reviewed Many Online Casinos
Each of the online casinos we recommend has something special to offer gamers. Here at Slots Play Casinos, we try to give you the best information we can about online casinos and online gaming.
This article is a case in point. We could have spoken about the games Springbok Casino offers but we chose to let you know that there is a lot more to Springbok than excellent games.
This is the kind of information we try to bring you every day. COME TO SLOTS PLAY CASINOS OFTEN for up to date information on all aspects of online casino gaming.