Every regular reader of Slots Play Casinos knows that we are primarily advocates of online casino gaming. We have reviewed many online casinos and we add more casinos to the list regularly. We are, however, also advocates of casino gaming and that includes gaming at land-based casinos.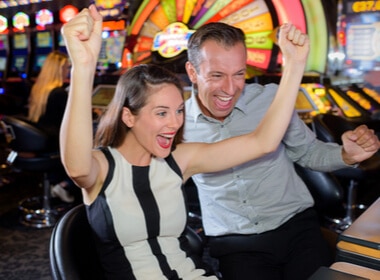 What Hath Corona Wrought?
The corona virus pandemic closed almost all land-based casinos. Now, two years after the first wave of the corona virus hit Western Europe and the Western Hemisphere, most land-based casinos have reopened.
Go to a Nearby Casino
There are so many legal land-based casinos in many countries, especially the United States, that gamers no longer have to go to Atlantic City or Las Vegas for casino gaming excitement. The ready availability of online gaming means that an excursion to a land-based casino should be a kind of party or celebration.
As such, we urge all gamers to go with friends. Try not to go alone! Going to a land-based casino is a perfect prescription for gambling too long and for too much money! Going with friends means being able to spend time with people you like away from the casino. This leads to many healthy outcomes while going alone often leads to many unhealthy outcomes.
Compare One Casino against Another
If you are planning on going to a local casino, there might be one a few hours' drive north, another a few hours' drive south, plus casinos to the east and to the west. Find out from gamers which casino in your area is best for gamers.
This question includes the casinos' attitude towards gamers, the feel of the casino, the return to player rates for their games, the number of terminals, the rules in the table games that may tilt the advantage directly toward the casino, and many other factors.
Which Rules Tilt the Advantage Directly Toward the Casino?
The two classic rule changes that we urge gamers to never accept are 8-5 video poker and 6-5 blackjack. In 8-5 video poker, you get eight coins for a full house and 5 coins for a flush. The better paytable is a 9-6 scale. It doesn't seem like much but with an 8-5 paytable, a gamer is almost never going to finish a session in the win column.
Similarly, 3-2 for a blackjack puts the gamer close to a 100% return to player rate while a 6-5 rate puts the gamer far from a 100% return to player rate.
Try to Stay for Only One or Two Nights
If you go to a nearby casino, it is possible to leave early in the morning and to come home after dark thus getting plenty of gaming without incurring the cost of staying in the hotel. Many local casinos don't even have a hotel. Going to such a casino is better than going to one with a good hotel.
The hotel will run up your costs and the thing we encourage gamers to do is to keep costs down. Travelling is a cost in and of itself so we hope to help you reduce your financial exposure while gaming.
Make a List of the Games You Want to Play
This might seem like an odd piece of advice. The list will help you leave one game to play another. Here is one of the top advantages of online casino gaming: the ease with which gamers can go from game to game.
Without a list at a land-based casino, most gamers will stay with one game, especially slots or video poker which are played at a terminal, instead of switching.
Add Time Limits to the List
This is also an essential element in gaming. It is easy to set time limits when you play online since you are home and there are plenty of other things to do. At a land-based casino, you might feel that there is nothing to do aside from gaming. This leads many gamers to bet many times their more reasonable online gaming budget.
By setting a budget for time and money, you can free up some money for shopping! Do you want to bring home a souvenir or two? As overpriced as souvenirs are, at least you have something tangible instead of coming home after having lost more money than you should have lost.
Time and money budgets also can free up time and money for eating at a nice restaurant. The buffet may have a lot of food choices and you might be able to get a free voucher for a meal but a good restaurant is always preferable over a buffet restaurant!
Play Low Variance Slots
Progressive slots and many others are high variance slots. That means that even though the return to player rate might be in the 96-97% range, most gamers lose while a few very lucky ones win quite a lot. In low variance slots, gamers get a lot of modest wins. That means that the same return to player rate as mentioned above actually plays out.
That means that if you go to the casino with a $500 gaming budget and you lose 4% of that amount, you can go home with $480!
Maintain Good Health
Gaming when you don't feel good is not the best way to feel better. It may be true that if you make minimum bets and play just for fun you might feel better before you go to sleep. But we feel that gaming is the kind of activity because people palace bets however small, that should be done when you feel at your best.
We feel that eating properly is a prerequisite for gaming. If you want to indulge at a barbecue, that may be fine but skip the gaming that day or even for a couple of days afterwards. The same applies to a night of drinking. Skip the gaming while you recover from the hangover.
We also advocate sleeping well. This implies being calm when you go to sleep. If there are unresolved problems, either at work or at home, deal with them to the best of your ability before going to sleep. Otherwise, you will wake up tired, and tired is not the best way to play.
Gaming is a Form of Entertainment
A good online casino allows unlimited free play but land-based casinos cannot afford to do so. Keep this in mind when you go to a land-based casino… Back at home, use that offer to play at no cost. We also feel that gaming for real money to the extent that you can afford to do so makes gaming a clear form of entertainment.
People don't go to a restaurant that they can't afford. People don't go to the theater or to concerts if they can't afford it. If you like the theater, you probably budget some money toward theater tickets per month or two. Then you look at the shows being offered in your town to decide if this show is worth that price for a ticket.
The same applies to almost everything we buy. People still go to used book stores because new books are so expensive. Many people have not been to a major sporting event in years because they are too expensive. The same applies to gaming. If, as a form of entertainment, you can make $1 bets then don't make $2 bets!
Slots Play Casinos is Always Ready to Help Gamers Maximize Fun
Come to Slots Play Casinos often as we expand the site and deliver news that will help you play better and have more fun!